When you're a kid, presents are king. Games, toys, movies, ponies — all we want are things. As we grow up, we want money. In our 20s and 30s, it's still money or more expensive, practical things that we'd never spend our own money on, like a really nice knife block to replace your crappy Ikea knives, or a sweet new carry-on. Or a mattress. No one wants to spend money on a mattress, but oh man, a good mattress is clutch.
And then, at some point, we also lean towards giving experiences instead of things. I noticed this particularly with my parents, partner, and best friends: in general, things didn't have the same kind of impact or sentiment attached to them. I've found it to be far more enjoyable to give the gift of experiences and time spent together, which are more likely to produce memories, and — bonus! — you also get something out of the gift too. (This isn't my first rodeo, kids).
In an effort to trade the tangible gifts for the intangibles, here are some ideas on where to start.
Food & drink classes
From beer tasting and wine appreciation to cooking and baking, most cities have a variety of options of food and drink classes. I've done ones where you watch and learn (these are usually the cheaper options) all the way up to fully hands-on cooking classes in test kitchens where you have your own station and everything. You can also usually find international themed events, which can help satisfy a bit of wanderlust at home (+1). Most recently I took my mum to Massimo Bruno's Northern Italian cooking class in Toronto and we had a blast — I highly recommend it if you're in and around Toronto!
Tours (shameless plug)
Ever since I started working at Urban Adventures in early 2011, I'd had my eyes on doing the Melbourne Moonlight Kayak tour. It just looked so cool. When I finally got the chance to go to Melbourne in 2014, I had my mum with me and decided we had to do the kayak tour on our last night of a brilliant Aussie vacation. We had the best time — fish and chips in the kayak, a stunner of a sunset, and we were in a tandem kayak so we got to work as a team (ahem, take sneaky rest breaks). It's not just that tour that makes a great gift — I've done Toronto's Beer Makes History Better tour so many times that I've lost count, and nearly every time I meet people who have been given the tour as a gift by a thoughtful friend.
Sporting equipment
Okay, so this one is technically a 'thing', but it's an experiential thing, so it counts! This is particularly great for people in relationships or best friends. Buy the same piece of sporting equipment, like a tennis or squash racquet or cross-country skis, and commit to hanging out while keeping active. Last year, my partner and I bought each other a pair of snowshoes (so Canadian, eh?!) and they're great because they're easy to carry around, and there are several great places to snowshoe within transit distance of downtown Toronto (mainly High Park), which is helpful when you're an urbanite without a car.
Tickets to anything local
Have an arts and culture enthusiast on your hands? Buy them brunch and tickets to an upcoming exhibit! Having heard that the Bacon and Moore sculpture exhibit at the AGO was rather good, I took my mum for an early Mother's Day present. She loved the exhibit, which was, indeed, very well curated, and afterwards I took her to Fika for open-faced sandwiches and comforting teas.
Sports fan? Buy tickets to a few local games, or better yet, a flex pack — a series of tickets throughout the season (without shelling out for season's tickets).
Festival or music lover? Whether it's a concert or a beer festival, treating someone to an awesome event is one of my favourite gifts. Sometimes tickets to these events aren't available yet during the holidays, so I usually opt with an 'IOU' of sorts so that they know they're in for an awesome treat. (Psssst. This is also helpful as it spreads out your money throughout the year so you aren't spending everything you've got at one time.)
Race entry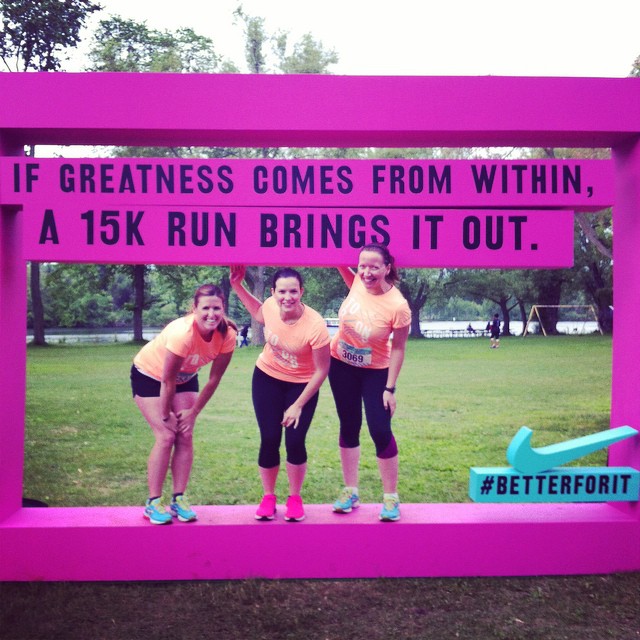 Want to treat a running / triathlon buddy? Buy their race entry! Even if you don't run together the whole time at all, it's a shared experience, and knowing you have someone in the same pack is surprisingly uplifting – especially if the course is a loop and you get to high-five them along the way. I've done several races solo and several with people I know, and the latter are way more fun, even though we never actually run together.
Daredevil antics
My best friend and I have birthdays a couple months apart, and two years ago we both really wanted to try out the new CN Tower attraction Edge Walk. I suggested that instead of buying each other presents that year, we do Edge Walk together and then go out for dinner. We don't normally spend this much on each other, but it wasn't really about the cost — it was about doing something crazy fun that we knew most other people wouldn't do with us. Other fun daredevil antics that I'd consider doing as gifts include whitewater rafting, bungee jumping, skydiving… basically anything that makes you sign a disclaimer.
A night out with axes… or a bow and arrow… or knives
I don't know about your cities, but Toronto is full of different new activities — it's as though we can't be content with regular nights out at a bar or restaurant. From axe-throwing to knife-throwing, escape rooms to archery tag, there are so many entertaining options for a night out with friends — pick an activity and have a ball!
Weekend getaway
For someone special, a mini-break is a wicked little treat, but it usually doesn't come cheap. If you've got the budget, a weekend road trip is a really fun gift experience to give. Find a little country inn, B&B, winery, chalet, or cabin within a few hours' drive and head out on an adventure! Stop in little towns along the way, hunt for antiques, grab snacks at a farmers' market, and, most importantly, bring a kick-ass soundtrack. However, don't forget to factor additional costs in mind — sure, you've paid for accommodation and transportation, but don't forget about food, drinks, etc for the weekend. If you truly want to treat them, you'll want to cover everything, and that adds up quickly!
Want to share an Urban Adventures experience? We've got gift certificates for the experience-seeker in your life!