Travelling is a lot like running — always moving, always going one more step forward to see what's around the next bend. And let's face it, the world is best seen on two feet. Especially when those feet are moving as fast as they can.
No matter whether you're a newbie runner looking for trails on your travels, or a seasoned pro who wants to compete in the best international races, we want to know your picks for best city runs. We've got our list started below, but we know it's just the tip of the running routes.
Send your favourite route from anywhere in the globe to blog@urbanadventures.com, and let us know why it makes you want to move. We're compiling tips from our guides, travellers, and readers into the ultimate guide to running around the world.
Berlin
Normally when you run sprint at the airport, it's in a frenzy and coupled with frantic cries of "hold the plane!!!!!!". Shed those horrible associations by heading to Tempelhofer Park in the south Berlin neighbourhood of Tempelhof-Schöneberg (just south of our fave Kreuzberg!).
Formerly the city's Tempelhof Airport, the site ceased operations as an airport in 2008 and is now a park used for fairs, festivals, and everyday recreation. Head there on any given day and you'll find cyclists, rollerbladers, and, you guessed it, runners! If you run the whole thing, it's 6km (3.7 mi), and we're partial to pounding the pavement at sunrise or sunset to make it even more surreal.
Sydney
Alright, alright, it's a total cliché, but come on, running around Sydney's Botanic Gardens is legit. It's right on the water, it's green and gorgeous, it has hills and flats for whatever training you fancy, and you get to stop and take in views of the Opera House and Harbour Bridge. We're sorry, but what more could you actually want in an urban run?!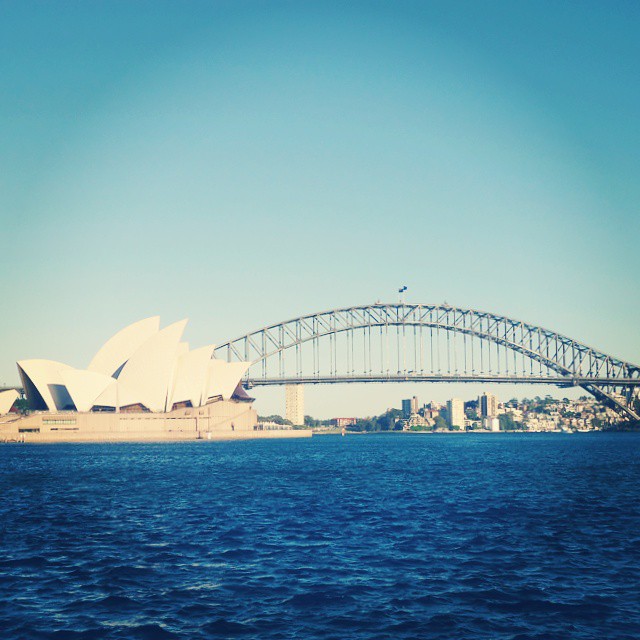 Our Digital Marketing Manager kicked off her 30th birthday with this very run (that's her photo from the morning!), and she's pretty sure she's set for the decade (although that could've also been the wine and risotto that night…).
London
Hyde Park, Regent's Park, Hampstead Heath, yep, they're classic London running spots for sure, but you know what we're partial to? Southbank. Take the tube to Westminster station, head over the Westminster Bridge, make for the London Eye, and look back. You've got the Houses of Parliament and Big Ben right there in the morning light (seriously, you don't want to do this any time other than early morning, otherwise you'll be swatting off tourists with your iPod hand (it's stronger)).
Keep going and you'll pass the London Eye, Southbank Centre, and Tate Modern, at which point you can cut across the pedestrian Millennium Bridge, which'll yield a delightful view of St. Paul's. London sightseeing? Done.
Philadelphia
Wanna jog like Rocky through the City Center? A good starting point is around 16th Street and Chestnut. A quick run north up 16th will take you past Philadelphia's largest skyscrapers. From there, the Benjamin Franklin Parkway awaits, and a left turn will brighten your run with its global flavour of the international flags, views of many of the city's museums, and tree-lined street. Up ahead, running across Eakins Oval will take you to the Philadelphia Museum of Art (feel free to do a quick jog up the steps, but don't forget to raise your arms over your head like the champion you are). After the Art Museum, stay to the right side on the sidewalk. This will take you down Kelly Drive and a quick mile toward a nice park and the famed Boathouse Row, where the local rowing clubs launch.
Turn around after the houses at the statue of Leif Erickson to see the Schuykill River, then head back. After passing Boathouse Row (and the Lemon Hill Mansion up the hill), head to your right, past Lloyd Hall, which will lead you to a bike path called the Schuykill Banks. Follow this around the Art Museum, and see the River Park, a fun skatepark, and the beautiful 30th Street Train Station in the distance.
You will reach Race Street, where a gated rail crossing will allow you to rejoin the city. A peaceful residential area welcomes you back. At this point you can stop at 3.5 miles, or, if you want to add 2 more miles, continue down Race Street. This will take you through Center City and the vibrancy of Chinatown. Pass by Franklin Square and make a right on 6th Street. You will pass by the National Constitution Center, Independence Visitor Center, the Liberty Bell, and Independence Hall. At Walnut, swing a right, and you'll see Thomas Jefferson University campus, Washington Square, and a nice view of City Hall, before slowing down your speed and returning to your hotel.
Copenhagen
Unsurprisingly, in addition to being an amazing city for food, culture, and design, Copenhagen is also a brilliant city for runners (as long as you aren't hill training…). If you're central, the Botanical Garden (Botanisk Have), Østre Anlæg, Kongens Have, and Ørstedsparken are great park options.
You can also run along The Lakes, which sit at the western edge of the city centre and have a total distance around of 6.4km (just under 4mi).  There are also the canals of Christianshavn (including sights like the Opera House, and potential cheeky pit stops at Noma or Christiania *wink*). Naturally, the further out you go, the more green space, parks, gardens, and trails you'll find. Copenhagen isn't just for cyclists!
San Sebastián
The best place to run in San Sebastián is along the three beaches of the city: you will cross through most of the neighbourhoods this way and get a chance to see the character of each. Head from Gros to the Old Town, with its Belle Epoque summertime leisurely atmosphere, crossing the tunnel under the Queen's palace toward Antiguo district and the Comp of the Wind sculpture complex, where nature and civilisation meet. You'll feel cheered on here thanks to more runners alongside you, since it is the preferred area for locals to go to run. A tip: Do it in the early morning, when the beach area is only for runners (later in the day it can be full of people strolling.
If you are a more adventurous runner and love landscapes, then we suggest running up to the Igeldo mountain. You will meet there San Sebastián's countryside. A tip: If the first slope scares you, take the 100-year-old funicular to the top, and then run down the hill.
Reykjavik
Despite its reputation as a chilly place, Reykjavik's temperatures are kinda perfect for running: not too hot in the summer and not completely frigid in the winter (their super popular (and Urban Adventures recommended) annual New Year's Eve 10k is proof!). The best place to run is the Sculpture and Shore Walk, a well-maintained trail that hugs the shoreline of Reykjavik's harbour, and features cool sculptures and stunning views along the way (ideal, non?).
Start at Harpa, the glimmering opera house, and head away from the city, past the iconic Sólfar (Sun Voyager) sculpture and out towards the Videy Ferry Terminal. It's 4km (2.5mi) one-way, so you can either get a delightful 8km (5mi) out of it, or turn back earlier for a shorter run. It'll probably be a bit windy, but that's part of the fun, right?!
Toronto
Like most big cities, Toronto has dozens of perfect little run routes hidden from view. The obvious is the Waterfront Trail (go west, friends), and if you go far enough, you get some fantastic views of the city. To the east, we love Tommy Thompson Park (aka the Leslie Spit) for a little traffic-free nature and even more fantastic views. It's 5km (3.1mi) from the start of the park to the very end, so it's a commitment if you want to do the whole thing, but it's a really cool (and usually pretty empty) run. High Park is perfect if you fancy trekking out the west end for some hill training, or if you're looking for something a little quirkier, the west end also has the Railpath, a multi-use trail in the Junction / Parkdale.
Or you could combine all of your fave things and do something we love to do on Saturday mornings – run to the Evergreen Brick Works Farmers' Market and then EAT ALL THE THINGS! From the city centre it's about 5km (3.1mi) and you can run through the beautiful Old Toronto homes of Rosedale then down into the Don Valley, emerging at the sustainable urban park haven of Evergreen Brick Works. Stuff your face with deliciousness and then hop on the free shuttle to the subway or take a leisurely walk back to the city centre the same way you came! You. are. welcome.