Tbilisi has been the capital of Georgia since the 5th century AD, which means there's a lot of history there for you to explore. As the city was located at the crossroad of Europe and Asia, it was through here that the biggest trade routes passed, including the Great Silk Road. Constant cultural exchange made the town a unique place all its own — and also lead to its destruction several times by various enemies. But despite its turbulent past, the city has still managed to maintain its beauty and authentic character. If you're headed to Georgia, here are a few of the best things to do Tbilisi.
Explore the Old City
First thing that you should do in Tbilisi is visit its oldest corners. Start from Metekhi Bridge and then head on to Abanotubani (the sulphur baths district), Narikala Fortress, Sioni Cathedral, Synagogue, and Anchiskhati church. These sites are very close to one another, within a few minutes' walk, so you can do lots of exploring without a lot of travel time. To reach Nariakala Fortress, you can either walk up or take the cable car. Also be sure to head up to the Sololaki district and check out its beautiful 19th-century buildings. Some of the buildings on Tabidze Street have very interesting frescoed entrances.
Take a bath at Abanotubani
Abanotubani is the district where you'll find the sulphur baths. You simply can't visit Tbilisi without taking going for a dip in the baths, and the sulphuric natural spring water is said to be great for your health. Bath houses offer both common and private rooms, with massages available at an extra cost. We recommend taking a private room at Samepo bath house (prices start from GEL 30) and getting a refreshing massage for an extra 15 GEL (the massage lasts about 10-15 minutes) — you'll feel like you've been reborn! Some famous writers are said to have bathed here throughout history, including Alexandre Dumas, Mikhail Lermontov, and Aleksandr Pushkin.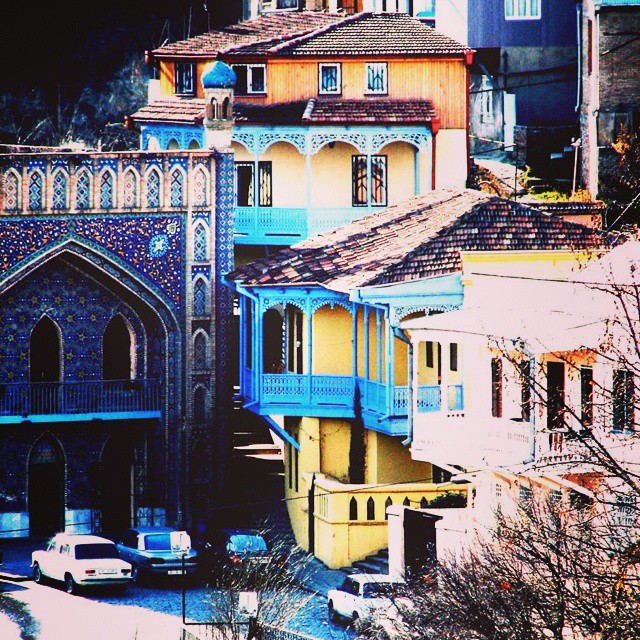 Visit the museums
There are numerous museums to visit in Tbilisi — all of them well worth your time. The Museum of Georgia (3, Rustaveli Avenue, closed on Mondays), features a must-visit exhibit of stunning golden Antique treasury, located in the basement.
If you love art, then you should visit the National Art Gallery (11, Rustaveli Avenue, closed on Mondays), next to Kashueti church. Here you'll find masterpieces by famous Georgian artists like Elene Akhvlediani, Davit Kakabadze, and Lado Gudiashvili.
The Shalva Amiranashvili Museum of Fine Arts (1, Lado Gudiashvili Street, closed on Mondays) features exhibits of precious artifacts from the Bronze Age, Antic-Hellenistic Age, and medieval periods, as well as modern pieces from the 20th century.
Lastly, the Open Air Museum of Ethnography is located a bit far from the Old City, near Turtle Lake — but if you can head over there, it's a good, educational display. The museum represents folk architecture and craftwork of each region of Georgia, so if you don't have time to travel beyond Tbilisi and throughout the country, this place will give you a better idea of regional differences. Next to the museum is a nice restaurant, Rachis Ubani, where you can try different kinds of tasty Georgian dishes.
Shop at the Dry Bridge Flea Market
In early 90s, when Georgia first became independent, the country suffered huge economic struggles. Locals would come to the Dry Bridge and sell previous, valuable items from their homes, in hopes of making some much-needed income. Today, the market cannot offer the same quality products as it did years ago (although this is good news, since people aren't selling off their wares), but the market still exists and if you are lucky, you may find a few interesting souvenirs. typically, you'll find various goods from the Soviet period, such as paintings and jewellery.
Alternately, you could go check out the work at La Maison Bleue (94, Barnovi Street). This textile art studio is both the work space and exhibition space for five local artists; you can buy beautiful handpainted silk wall hangings, silk scarves, cushion covers, lamp shades, and various other souvenirs.
Have some fun at Mtatsminda Park
The Mtatsminda amusement park offers fantastic views of the city, and is the perfect place to spend an evening during Tbilisi's hot summer days. There are carousels, water slides, a roller coast, and ferris wheel overlooking the city. You can reach the park by the funicular tram, by bus, or by taxi. Here you'll also find one of the city's most popular nightclubs, Under Wheel, located, no surprise, right under the ferris wheel.
Eat and drink and eat and drink some more
Georgian cuisine is loaded with cheese, bread, walnuts,and spices — we love to eat and to eat well! To get acquainted to Georgian cuisine, check out Shemoikhede Genatsvale restaurant, located on Pushkini Street. You can try khinkali (dumplings), khachapuri (cheese-filled bread), eggplants with walnuts, chkmeruli (chicken in garlic cream sauce), and more. The food is great here and staff is friendly.
Other good places to dine include Linville, a vintage style café, located on 2 Kote Abkhazi street (former Leselidze street). This is a place to relax with friends, and have a coffee with some delicious cake. On Sunday afternoons, people gather here to dance the Tango.
Alternately, check out the great views from Art Café 144. This café has a perfect location just below the Narikala Fortress. If you are looking for a place to spend your summer evenings relaxed, enjoying city views, and sipping wine, then this is the right place. From May to October, your evening will be accompanied by live music (violin or blues), too!
Georgian meals are best accompanied with wine, which is why almost every family makes their own wine at home. In fact, Georgia is the homeland of wine, and the country has 8,000 years of wine history. If you like dry red wine, you should try Mukuzani; if you like dry white, then Tsinandali. If you are fond of red semi-sweet wines, then definitely taste Kindzmarauli and Khvanchkara, and if white semi-sweet is your preference, try Twishi. There are several Vinotecas in Tbilisi — one of them is located on Kote Apkhazi (fromer Leselidze Street). If you like your drinks stronger than wine, try chacha! It's a grapewater or grappa that's similar to (but stronger than) vodka.
If Tbilisi is in your travel plans, let us show you around the city like a local!