From tapas to beer, flamenco to modern art, there's so much to see and do in Seville that your problem won't be finding ways to spend your days, but trying to fit it all into the days you have! Explore it all with our ultimate guide to the best things to do in Seville.
Soak up some culture in Tirana
A mysterious area that adds plenty of spice to Seville's culture sits just across the river from the city centre. Its charms, however, are a well-kept secret — as a visitor, one might find The district of Tirana to be small, odd, and even unattractive. Triana doesn't shine with beauty and its streets are simple. But every local knows that passion burns as hot as iron in this old neighbourhood.
For instance, some of the world's greatest flamenco artists learned their very first steps in Triana; in the dark bars of the former Gypsy quarters they performed, away from the public eye. And later, men like Juan Belmonte changed the world of bullfighting, even though they practiced in small communal backyards. Another surprising fact is that most of the stunning tile-works of Seville actually came from the stone ovens of Triana. Finally, the thieves, the witches and the unwanted citizens who were expelled from Seville in the Middle Ages settled in Triana and gave it its untamed character.
Today, locals visit the site in search of good food, affordable drinks, and cheerful atmosphere. As soon as you cross the historic Triana Bridge (also known as Isabel II), a vivid pedestrian area tickles your senses with fresh products, sounds of laughter, and colourful decoration. Although slightly touristy at the beginning, the road takes you into the very core of the Andalusian spirit. You could even end up eating a fried bird (at Casa Ruperto, Av. Santa Cecilia 2) or enjoying midnight flamenco (at La Anselma, Pages del Corro 49).
If you're a morning person, this area has a few activities for you, too. Grab some fresh products from Mercado de Triana (entrance from Plaza del Altozano) and look for the quiet riverside section below the market. Some local ducks might join you, asking to share your breakfast. The market itself once served as the Inquisition's official headquarters. You can take a self-guided tour of the museum that hosts a historical overview about what actually happened in the dark underground hallways of the centre. And at night, the market hosts events: live music and puppet shows tell stories about Spain and its culture, and zany bars compete at whose modern dishes will grab the most attention. In case you've wondered – reportedly, the spirits of the prisoners often visit the market.
Some other not-to-be-missed places in the area are Bar Liceo (Plaza del Altozano 9), Manu Jara pastry shop (Pureza 5), Cerveceria La Grande, where you get free prawns with each drink (San Jacinto 39).
Get some green time in María Luisa Park
Stretching across a 40-hectare area, María Luisa Park offers activities away from the city bustle. Back in 1929, Seville hosted a mind-blowing international event, the Ibero-American Exposition. Architectural marvels popped up everywhere, turning the historical centre into an open-air museum. In order to offer some tranquility to guests, architects granted the city a public garden, filled with exotic plants and shaded pathways.
Prepare a picnic basket and head to the famous Plaza de España first. If you haven't already seen it, spend some time there. You can learn a lot — using symbolical ornaments and mosaics, the creators attempted to represent Spain and its history in one single building. Once you've seen enough of the plaza, get lost in the wilderness of majestic María Luisa Park. Encounter swans and ducks, eat on the grass, and snap some photos of the numerous hidden sculptures. Eventually, you should bump into Plaza de America, which lies at the south end of María Luisa. You might need an extra memory card for all the photos you'll want to take here. Several museums host their exhibitions in ancient-looking buildings, and children feed pigeons by the small lakes. Join the feast — you'll be rewarded with pigeon nail wounds but also a moment to remember.
Finally, when the beautiful park closes its gates at midnight, several nightclubs along Plaza de America open their doors to welcome the sexy Andalusian nightlife!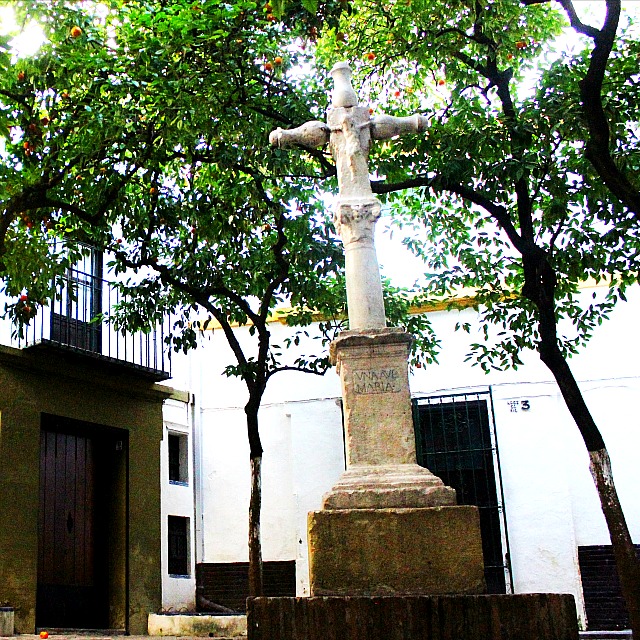 Snap photos of Santa Cruz and its secret spots
In Seville, you'll find charm, legends, and Kodak moments behind almost every corner. But one particular place should not be missed by any romantic soul: the old Jewish quarter (La Antigua Juderia). Located right by the royal palaces and the cathedral, this labyrinth-like location tells many stories. Its miniature streets carry more than one name, even eight or nine, each one commemorating a certain event from the neighbourhood's turbulent past.
Some of the horror stories might make you shudder; but behind the dark facade lies a world of beauty. Colours and geometric shapes decorate the buildings, and hidden alleyways remain lonely all day. Tile mosaics depict legends in most unexpected of places. Imagine walking by a large 17th-century cross, admiring its elegance and, upon taking a closer look, discovering that it's made of dragon heads, scary priests, and iron snakes. And millennium-old towers rise in the background. Open your eyes wide and look for the hidden gems. Check below the terraces. Peek through doorways. Discover enormous lush atriums behind tiny gates of tiny houses.
And some say that at night, the spirits awake. Santa Cruz empties out of visitors, and dim lights uncover the dark face of the ancient ghetto. If you're in the horror movie industry, take all your machinery and equipment with you. And when it rains, even Tim Burton gets scared.
Regardless of the time or season, this neighbourhood tells a thousand stories.
Stand up and have a beer
Sevillians have a peculiar beer culture. Beers are drank from tiny glasses, while standing. No armchairs, no pints. And no warm beer either — quite often you'll see the taps so cold they've frozen, and the "liquid bread" pours out at a temperature of just above the freezing point. Which also explains why are the glasses are small: so the beer doesn't get warm (cervezita fresquita).
But why do we like standing while drinking? Socialising.
Standing makes it easier to mingle. Easier to joke with Carlos and Pepe. Easier to order a drink for the single lady at the back. Easier to say hi to the man crossing the road. Having a beer means making friends. It's all about the love of fun. And these small glasses (cañas) are not even expensive — 1 to 1.50 euros.
But the peculiarity of our beer culture doesn't end here. Turns out the most famous beer spots are in front of churches. El Salvadór, for instance, has the best vibe; Santa Ana has the best tapas; and San Andrés is a good hippy+posh creation. Among other beer sites we recommend are along the romantic Betis Street, right by the Guadalquivir River. The views at night are enchanting and if you look carefully you can find 1 euro bottled local beers (Cruzcampo) in some of the bars.
Do you like free prawns? That's another peculiarity of our beer culture — at some places you'll get two to three free prawns with each drink. Our favourite free prawn bar is La Grande in Lopez de Gomara 18 (EUR 1.20 for a beer with some prawns).
And finally, our peculiar beer spot list wouldn't be complete without Mercado Provenzal. Cañas here will set you back EUR 0.40. Around the centre, you'll find them at the top locations – at Plaza de la Encarnación by the "Mushrooms" (the world's largest wooden structure) and at Alameda de Hércules 94.
And remember, Andalusians don't drink to forget their troubles; they drink because life is too magnificent to face it sober!
Find hipster Sevillian culture
To say that Seville is modern might actually offend the hard-wired traditionalists. That's because many of our well-known habits — siesta and snail-eating included — can be traced back to the ages before time was even counted. Yet, somehow, the present fits into this complex culture like a newborn baby into a lace-coated wooden cradle.
Usually tucked away from the main tourist attractions, Seville features modern art, evergreen music and our own version of hipster culture. This shy but untamed life form can, for instance, be spotted in San Vicente area (the northwestern portion of the centre), where it relaxes and grows uninterruptedly, away from the world's judgement. As guests, we can take small bites of it in bars and concert halls, just take your pick.
Sala Malandar (in Torneo 43) hosts about 200 people and offers different musical experiences, most commonly pop, rock, and indie. It suits the noisier crowd, but only those full of peace and love.
A bit deeper within the neighbourhood, La Caja Negra (in Fresa 15) surprises its guests on Fridays, Saturdays, and Sundays with anything from electronic music to Flamenco, in a spontaneous, pub-like atmosphere.
And our favourite, super-cosy Ánima Galería (Miguel Cid 80) features old tiles on the walls, plants and paintings hanging around the bar, and a cat saying hi.
And no matter whether you're a local or a tourist, don't miss the alternative scene — disapproved entirely by our forefathers Cesar and Hercules, of course.