In the late 19th century, Paris had over 60 breweries producing good-quality beer. However, industrialisation, the concentration of production, and the homogenisation of taste has lead to almost all of these breweries closing down — leaving Parisian (and French) beer in a state of sad despair. Up until recently, the only beers you would find in the French capital were Kronenbourg, or similar cat-piss-tasting-mass-produced beer. Fortunately, some smaller breweries have opened lately, following the growing world trend of local, micro-produced craft beer. To make sure you only find yourself drinking the good stuff while you're in town, here are our favourite six microbreweries in Paris:
Le Triangle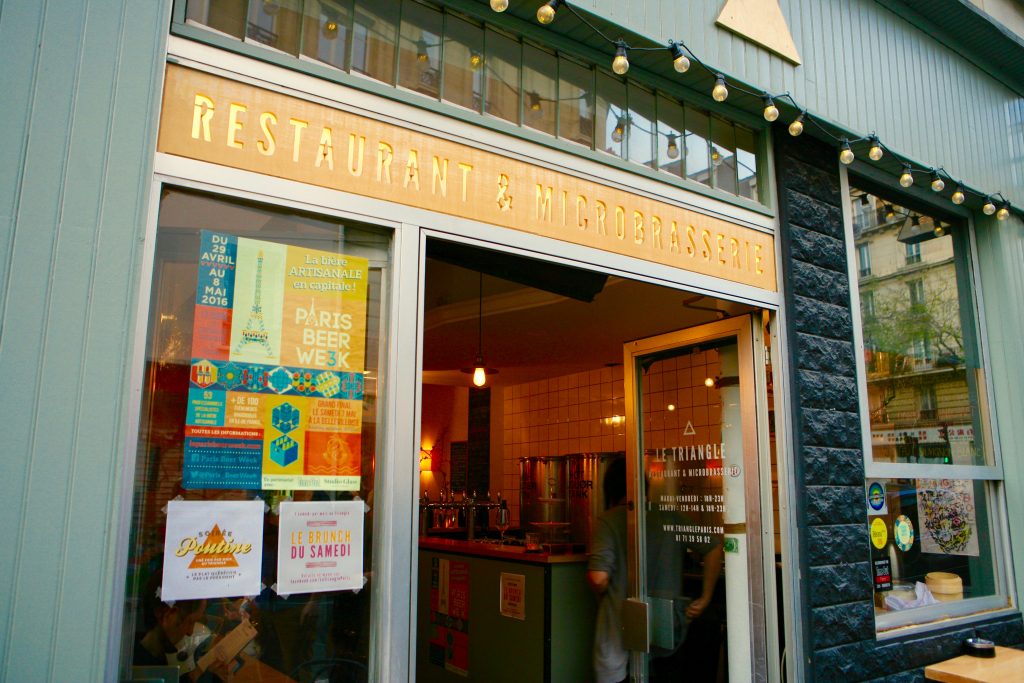 Maybe the tiniest and most adorable beer bar/microbrewery/restaurant in Paris, Le Triangle and its French-Canadian team aim, in a beer-sommelier fashion, to pair food and beer. The ales, lagers, and stouts are either produced on the premises or sourced from one of their numerous distributors, with a menu (of both food or beer) that's reviewed constantly by the passionate staff (and a chef with Michelin-star restaurant experience). A great little Parisian address to discover.
Open Tuesday to Saturday from 6pm to 11pm. 13 Rue Jacques Louvel-Tessier, 75010 Paris. +33 1 71 39 58 02

Brasserie La Goutte d'Or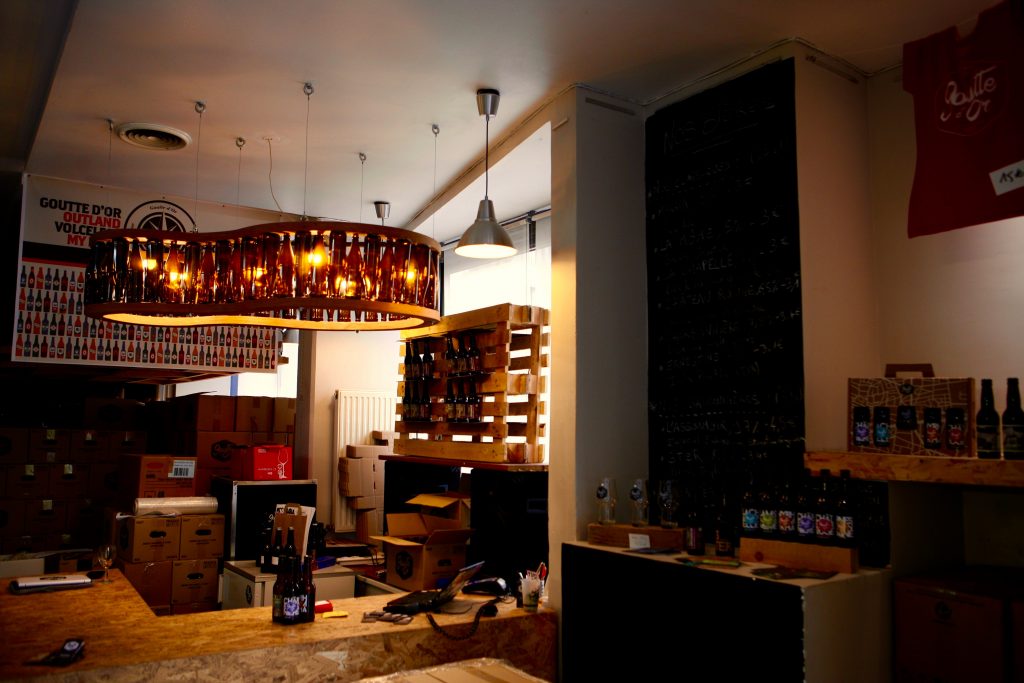 Considered to be the first craft brewery in Paris, la Brasserie de la Goutte d'Or started production in 2012, in the heart of a very multicultural, seedy, and slowly up-and-coming neighbourhood in Paris with a beautifully poetic name: la Goutte d'Or ("the Golden Drop"). The small production has reached a wide market, with more and more places selling some of the six delicious ales, porters, and lagers produced by la Goutte d'Or and all named after an iconic place or street of this working class area. You can also sample the beer in the brewery when its open to the public (check the times on their website).
Open Thursday and Friday from 5pm to 7pm and Saturday from 2pm to 7pm. 28, rue de la goutte d'or, 75018 Paris. +33 9 80 64 23 51
Paname Brewing Company
Located on a prime spot just on the Canal de la Villette in the new hipster-trendy location in Paris, the Paname Brewing Company boasts fantastic industrial interiors with dimly lit contemporary lighting. The high point, however, is definitely the outside terrace that's on the canal and packed with locals on sunny days. On tap, six delicious beers produced on-premises by a German master-brewer: one pale ale, an IPA, a black ale, a red ale, a wheat beer, and a light dark beer, all equally delicious.
Open everyday from 11am to 2am. 41 bis Quai de la Loire, 75019 Paris. +33 1 40 36 43 55
La Brasserie de l'Être
One of the latest breweries in Paris opened in September 2015. La Brasserie de l'Être currently offers three delicious beers with beautifully designed labels: the Salamander, a light balanced malty and hoppy lager, the Cerberus, a strong triple dark, and the Elephant, a perfect IPA. More seasonal beers are set to come. There's no place in the brewery to actually taste the product, but just next door, the shop/beer bar Ah la Pompe à Bière boasts hundreds of beers from all over the world, and offers la Brasserie de l'Être in bottles or on tap. Cheers!
Shop/bar open from Monday to Saturday from 10am to 8pm. 7 rue Duvergier, 75019 Paris. +33 7 83 29 05 52
BapBap Brasserie
Located behind an anonymous-looking garage door, in the heart of the party zone of the 11th district, BapBap offers four permanent beers (and several seasonal to come), influenced by Anglo-Saxon-type beers: pale ales, IPAs, stouts, and wheat beers. There's no proper bar in the brewery, but there is a little tasting counter where you can try their different productions daily in the late-afternoon. The brewery also organises visits twice a week, available in English. Just next door, one of the greatest grocery stores in Paris, HM Market, looks like a no-name Seven Eleven but actually boasts over a thousand different kind of beers from all over the world!
Open Monday to Saturday from 5:30pm (2:30pm on Saturdays) to 7:30pm. 79 Rue Saint-Maur, 75011 Paris. +33 1 77 17 52 97
Frog
Started in 1993, the Frog is the first microbrewery to have opened in the French capital, re-launching the movement of small produced beer that was almost non-existent after World War II. At first, it produced three mediocre-quality beers and focused more on the Sports Bar side of the place, but the brewery has diversified lately (following the trend of craft beers), and now produces a dozen of very decent lagers and ales for all tastes. Popular among students and the young foreign crowd, you'll find this brewery/bar in seven locations throughout Paris.
Most of their bars are open every day from 11am to 2am. Check their website for the different locations.