Neo-bistrots are part of a new culinary trend in Paris, launched by young-handsome-tattooed-bearded-hipster chefs, who are trying to reinvent the French classic in a more contemporary and less conservative way. Using fresh and seasonal sourced ingredients, creating interesting combination of flavours, and bringing up to date forgotten ancient vegetables or unused parts of animals, these chefs have created a mini-earthquake in the well-established world of French cuisine. Here's our selection of the best places to discover this new (and delicious) trend. Note that all these restaurant are extremely popular, which means a reservation, even several days/weeks beforehand, is necessarily.
Chatomat
Possible the cutest, cheapest, and most humble of this list, Chatomat is nestled in a tiny side street in the up-and-coming area of Ménilmontant. Opened in 2012, the place has remained packed until now, maybe because of the quality and originality of the food, orchestrated by the duo in the kitchen. It has a fixed-priced menu at 40 EUR, with daily-changing specialties in a beautifully and simply decorated immaculate dining space starring bare stonewalls and trendy lighting.
Open Monday to Saturday from 7.30pm to 10.30pm, 6 Rue Victor Letalle, 75020 Paris, +33 1 4797 2577
Joseph et Lucien
You'll find a cute little space at Joseph et Lucien, located in the north of rue Montorgueil. Playing with the style of classic French bistrot with old tiny floor tiles, big mirrors, and schoolroom-style chairs, the place has already become a hit in the neighbourhood with its great daily menu prepared by its Argentinian chef. Expect French-South American fusion food and classic yet original flavours on your plate.
Open Monday to Saturday from 12.30pm to 2.30 pm and 8pm to 10.30pm, 43 Rue des Petits Carreaux, 75002 Paris, +33 1 4482 5553
Septime
This 'new generation' style of French restaurant serves up unpretentious and truly delightful dishes. Like its contemporary, Frenchie, the menu of Septime takes its origins from traditional French cuisine and adds ingenuity and artistry. The chic style interiors with a Scandinavian bent add to the non-fussy atmosphere. Not cheap but certainly recommended for a special occasion that won't break the bank. For something more casual and quick, try the brand-new wine bar, Septime Cave, which brings you great wines and sophisticated bar snacks just around the corner, or Clamato, a seafood-tapas inspired restaurant next door.
Open Monday to Friday for lunch and dinner, 80 Rue de Charonne, 75011 Paris, +33 1 4367 3829
Frenchie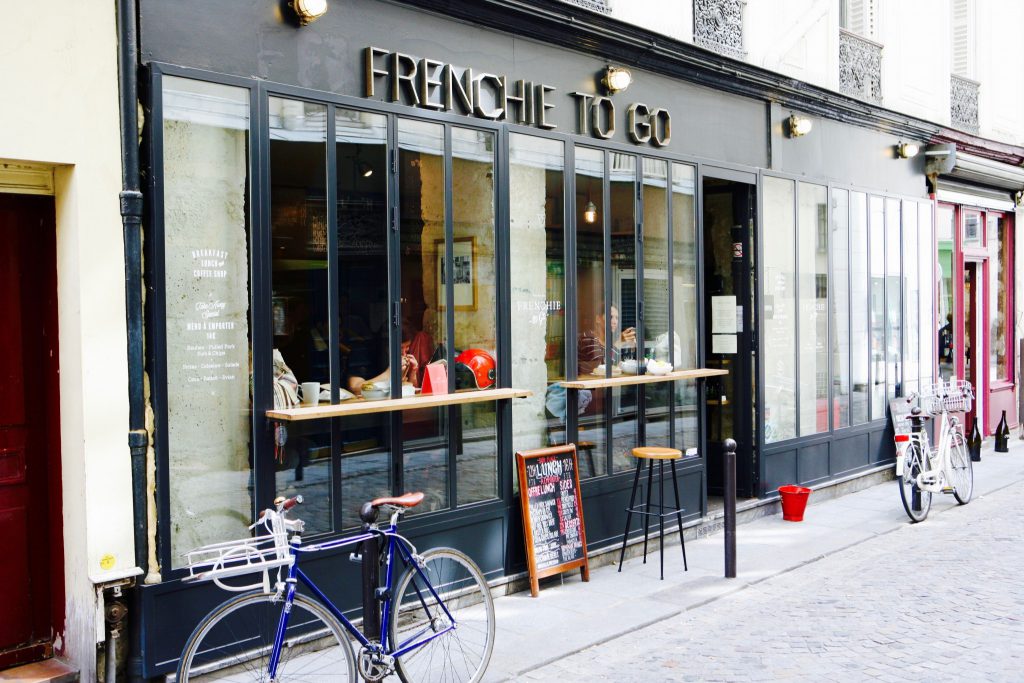 Extraordinarily fashionable and popular, Frenchie is on this list because it deserves its reputation, and we love it. The food here can only be described as magnificent, and the petite menu of two dish options per entrée and main, and three for dessert, simply means everything is cooked to delicate perfection. Book well in advance (be warned, three months is not a long time here) or cross all your fingers and toes and try your luck last minute.
Open Monday to Friday from 6.30pm to 10pm, 5 Rue du Nil, 75002 Paris, +33 1 4039 9619
Aux Deux Amis
This little hipster gem is anonymously located in the rue d'Oberkampf. Follow the trendy crowd and prepare yourself for one of the freshest/newest/coolest/greatest tapas fusion experiences. No menu at Aux Deux Amis, just a piece of paper read aloud with the daily specials straight from the market. All the plates rank from 3.50 to 8 EUR and are beautifully prepared by the chef's duo in the minuscule kitchen in a very noisy, joyful, and trendy atmosphere.
Open Monday to Saturday, 10.30am to 2am, 45 Rue Oberkampf, 75011 Paris, +33 1 5830 3813
Bonus: Chateaubriand
One of the first chefs to have launched this new trend of contemporary-style bistrot, Inaki Aziparte opened Chateaubriand back in 2006, which created a little revolution in the world of Parisian cuisine. The concept is simple: a 10-course tasting menu, changed daily depending on the mood of the moody chef, with a possible wine pairing. The staff is exactly what to expect from trendy Parisian bistrot staff — meaning they're as hipster as they can be arrogant. The prices have risen up massively in the last years to reach Michelin-star standards. Hard to know if we love it or hate it, but as the first one, it had to make the list.
Open Tuesday to Saturday from 7pm to 11pm, 129 Avenue Parmentier, 75011 Paris, +33 1 4357 4595