Venetians know a lot about a lot of things — how to dress effortlessly stylish, the importance of a good aperitivo, how to navigate the canal system… and, of course, how to make the perfect cup of coffee.
We can promise you you'll drink a lot of espresso while you're visiting Venice, but if you want the best cups the city has to offer, you need to add these five places to your travel to-do list.
Torrefazione Marchi in Cannaregio
Since the 1930s, the family that owns this coffee shop has been bringing the best coffee beans from all over the world — including the pricey Jamaica Blue Mountain Coffee — for local Venetians to buy their miscela (blend) of choice. They roast the coffee on the premises, so the wafting aroma when you pass by makes Torrefazione Marchi a compulsory stop in the morning!
If you're making your coffee home, choose how many grams you want and whether you'll be using the coffee for a moka or to use in an espresso machine, and they'll ground the beans accordingly. If you'd rather someone else do the work, choose the type of coffee you want for your espresso in the bar area — in the mornings, they also have tasty brioches to pair with your coffee, so you can start your day the right way.
Paticceria Tonolo in Dorsoduro
Paticceria Tonolo is famous among locals for its seasonal sweets, and during every Carnevale, this café is the must-visit place for frittelle (fried dough filled with chocolate, cream, or zabaione, a liqueur-based custard). During the rest of the year, it's a compulsory stop for a sweet treat during a long work day — their homemade dolci keep coming out of the oven throughout the entire day, and for only 1 EUR you can choose among fruit tarts, chocolate sponge cakes, or simple biscuits to go with your caffè!
Rosa Salva in San Marco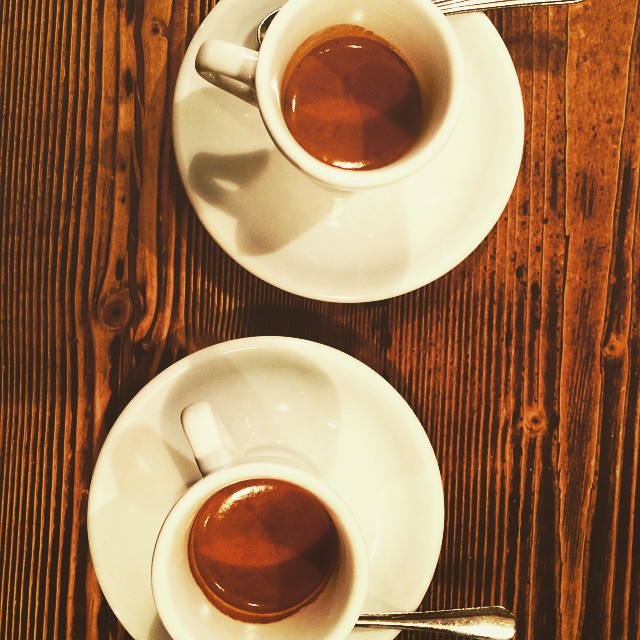 Rosa Salva is known for its historical panettone tradition at Christmas, but it's also one of the best places near San Marco Square to have a mini break and enjoy a nice cup of coffee with one of the many homemade pastries they offer. Our favourite? The Sacher Chocolate cake. If you are around at Christmas time, you'll find queues of people asking for their panettone or booking it for the holidays. The price of your panettone is per grams, so order as much as you want!
Fujiyama Tea Room in Dorsoduro
A tea room in a coffee article? Well, yes! Although Fujiyama Tea Room is most known for its long Asian tea list, like good Italians, the couple that owns this shop ensure you also enjoy a proper cappuccino in their private garden. A proper chill-out area is surrounded by silence and flowers, and complimented with a nice coffee. They do not make their desserts, but they get them from Vizio Virtu (a famous chocolatier) nearby. The best thing about Fujiyama is its garden and the book exchange area — you can pick up a book or newspaper (English ones are available) and enjoy it with your cuppa. You can also exchange that book you already read on your holiday and swap for a new one. Fancy , huh?
Esquina Caffe in Mestre
Many visitors wonder whether there's anything to do in Mestre? This neighbourhood is the new industrial part of Venice and also a residential area for many locals. Right in the heart of it, you can find Esquina Caffe, a new place that is putting lots of effort into their breakfast. The coffee is high quality, and your cappuccino comes with a "message" on it (maybe a cute rabbit at Easter or a heart for a proper buongiorno). They have tons of sweets pastries to choose from: forest fruit, chocolate, honey and cereal… plus, as per Southern Italy customs, the coffee always comes with a glass of water — but in there case, they add mint to it to freshen it up. The best part of this place is their staff: always with a smile, efficient, and very welcoming!
Headed to Venice? Let us show you around on one of our locally led Venice tours!