When the temperature dips in Budapest, that's when the city comes alive with warmth! That's because the cold months of winter are one of the best times of year to explore the Hungarian capital, with plenty of sites to see and flavours to taste that will warm your heart no matter the windchill. From Christmas markets to thermal spas, here's how to embrace winter in Budapest.
Browse the Christmas markets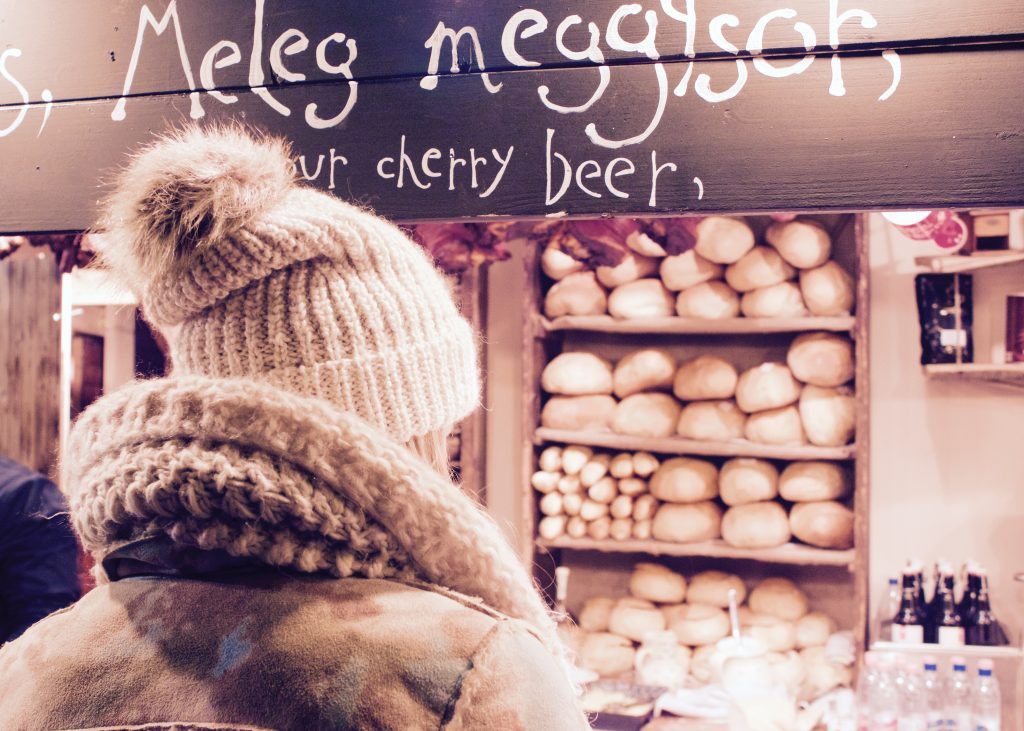 As winter descends upon Budapest, the city transforms into festival mode with its famous Christmas markets taking centre stage. First on my agenda was to learn more about the Hungarian Christmas traditions, such as how children who have been good will receive small chocolates in their boots on December 6th from Mikulas, the Hungarian version of Santa Claus. Those who've been bad will receive golden birch branches, and while, historically, they've symbolised a spanking, adults may also receive bundles of small branches, which are used for hitting one another to bring about good health and good luck. (This tradition comes from the region's Scandinavian ancestry.) Wander from stall to stall and shop for local goods like handcrafted wooden gifts, local meats, wine, cheeses, paprika, jewellery, and clothing.
Eat all the foods
While exploring the Christmas markets, you'll have plenty of opportunity to smell and taste the local delicacies. The star attraction come wintertime is mulled wine — which was a high priority as I travelled from market to market! The hot wine is infused with cinnamon and orange and, as I discovered, can be made from either red or white wine.
If you've got a sweet tooth like me, then you'll particularly enjoy some kürtőskalács (chimney cakes), which are sugar-glazed rolls cooked over coal and then dusted in various flavours, or bejgli (spiral strudel), which is another sweet cake filled with poppy seeds or walnuts. You will also find honey cake, Hungary's answer to gingerbread, and Christmas-decorated chocolates from Budapest chocolatiers.
Our guide pointed out Hungarian dishes like pork knuckles, lángos (deep-fried flat bread), töltött káposzta (stuffed cabbage), and pickled everything from baby cucumbers to capsicums (basically whatever they can get their hands on). Enjoy some gulyás (goulash) or hurka kolbász (sausage) with mustard and bread in the middle of Mihály Vörösmarty Square market, all while the Games of Thrones theme song is played on the adjacent stage by a couple of local artists.
Drink up in a Ruin Bar
Ruin Bars are a fascinating discovery you'll make upon visiting Budapest. What was formerly a collection of rundown buildings has been transformed into shabby chic bars, the oldest of which is Szimpla Kert. Szimpla is simple by name and in design, and inside the bar you won't find much except for a few couches and tables. To complete your Ruin Bar experience, I recommend visiting Ellato Kert & Taqueria, where you can join travellers and locals young and old, and Fogasház, where you can party into the night.
Brighten the night with lights
Budapest is a lively city by day but it shows off its true colours at night. I took a short walk along the Danube, and saw the Chain Bridge — a highlight for many visitors to Budapest and, come nighttime, lights up the Danube. Across the Danube in Buda is Budapest Castle. Also worth visiting is the Hungarian Parliament House with its golden glow.
Throughout the Christmas markets you'll also see Christmas trees and ornaments that hang above the market, beautifully decorating the surroundings. We witnessed the light show at the cathedral, joining thousands of others in the Christmas spirit of the markets. The show is set to techno music and is a colourful display with Mikulas making an appearance, and presents that fall from the cathedral windows and are collected underneath the tree.
Chill out in a spa
Budapest is famed for its thermal waters with healing health qualities (these baths also give way to the city's nickname, the 'City of Baths'). Whether you choose to begin the day with a spa outside as the sun comes up or wind down after a busy day of sightseeing, you're going to feel revitalised in one of the city's pools.
I visited Széchenyi Thermal Bath, located at one end of Andrássy Avenue. There, you can enjoy the open air as the spa offers an alfresco setting with pools at a relaxing 38°C. Another option is Gellért Bath, located at the Liberty Bridge's Buda side. While I didn't step inside, I've heard that the spa provides an escape from wintery conditions with an indoor swimming pool.
The writer travelled on our Merry Markets and Mulled Wine tour. This article originally appeared on coffeetravelcamera.com.