A popular legend claims that the world bistro (or bistrot) comes from the Russian word bistro (быстро), introduced by Russian soldiers during the occupation of Paris in 1814, following the Napoleonic wars. The story goes that the soldiers would use the word to instruct Parisian café owners to serve them their drinks quickly, so as to avoid getting caught by their superiors. No one really knows if this etymology is true or not, but "bistro" nowadays describes a place that serves quick, tasty, French home-style cooking.
To help you navigate the city's food scene, here is our selection of the five best Parisian bistros, courtesy of local Paris tour guides, and based on affordable prices, traditional styles and, of course, excellent food!
Bistro Paul Bert (east of Paris)
An excellent iconic bistro on a tiny quiet street, Paul Bert serves delicious traditional French food with a daily three-course lunch menu for about EUR 20, as well as dinner à la carte. The settings are very rustic and you'll find a seafood restaurant belonging to the same chef next door. Great little neighbourhood restaurant that has grown into a Parisian institution!
Open Tuesday to Saturday from 12pm to 2pm and 7.30pm to 11pm, 18 Rue Paul Bert, 75011 Paris, +33 1 43 72 24 01
Chez Denise (centre of Paris)
We're always searching for the ultimate Paris bistro experience, and Chez Denise comes pretty close to fulfilling all our requirements. No-nonsense classic French cuisine (lots of meaty dishes on offer here), a warm atmosphere, checkerboard tablecloths, a long history, and it's open to the wee hours. Yes it's well-known, but that's because it's good.
Open Monday to Friday from 12pm to 3pm and 7.30pm to 5am, 5 Rue des Prouvaires, 75001 Paris, +33 1 42 36 21 82
Polidor (Saint Germain)
This place is beautiful — so beautiful that Woody Allen used it as one of the settings in his film Midnight in Paris! The American director was certainly aware of the fantastic history of Restaurant Polidor, open since 1845, and which has had among its most famous customers Victor Hugo, Verlaine, and Ernest Hemingway. Inside nothing seems to have moved one bit since the 19th century, and the menu has solid classic French specialties such as snails, rib steak with homemade fries, and the house specialty, la blanquette de veau (veal cooked in mushroom sauce).
Open daily from 12.30pm to 2.30pm and 7.30pm to 12.30am, 41 Rue Monsieur le Prince, 75006 Paris, +33 1 43 26 95 34
Café Constant (next to Eiffel Tower)
Christian Constant is certainly one of the best contemporary French chefs, and just next to the Eiffel Tower, in the very upper class street Saint-Guillaume, he opened three restaurants, which all became institutions. Café Constant is the more laidback one, with a daily menu constantly renewed by the chef, in a rustic yet classy atmosphere. One of the best place to eat close to the Eiffel Tower, in an area usually more renowned for tourist-trap overpriced eateries.
Open daily from 12pm to 11pm, 139 Rue Saint-Dominique, 75007 Paris, +33 1 47 53 73 34
Le Comptoir du Relais
In the heart of Saint-Germain, the renowned chef Yves Camdeborde has opened this great little bistro, one of the best place to see and be seen in Paris, with its large terrace facing the little Odeon Square. They take no bookings at lunchtime, so expect big queues of locals and tourists alike, waiting to taste the classic French cuisine of the chef with original touches. At night, there's a EUR 60 menu for the lucky ones who manage to book a table.
Kitchen open daily from 12pm to 6pm (11pm on weekends), dinner (with booking) during the week at 10.30pm, 5 Carrefour de l'Odéon, 75006 Paris, +33 1 44 27 07 97
Aux Lyonnais (centre of Paris)
The city of Lyon is seen as the centre for gastronomy, and the chef Alain Ducasse is certainly one of France's best chefs. Therefore, it's no surprise that Aux Lyonnais, a traditional bouchon Lyonnais, appears as one of Paris' best eateries. The interiors are beautiful, with marble and historic chandeliers, yet it also manages to maintain a sort of working-class rustic feel. On the menu, you'll find nose-to-tail specialties from the southeast of France, plus a great wine list. A bit more expensive than the other places on this list, but worth it!
Open Tuesday to Friday from 12pm to 2pm and 7.30pm to 10pm, Saturday from 7.30pm to 10pm, 32 Rue Saint-Marc, 75002 Paris, +33 1 58 00 22 16
Au Virage Lepic (Montmartre)
So tiny, so cute, and so French! Everything on the menu is as heartwarming as the wine from the south of France poured by the two friendly owners. Try their cassoulet (possibly the best one in Paris), kidneys, and duck. Au Virage Lepic is a true little local gem and the kind of place that travellers are seeking to find when they come to Paris.
Open Wednesday to Monday from 7pm to 11pm, 61 Rue Lepic, 75018 Paris, +33 1 42 52 46 79
Chez Paul (Bastille)
Iconic rustic French bistrot, Chez Paul is a local institution in Paris, perfect for trying the best of French food in a setting that reminds you of a small countryside tavern. Nestled in the heart of the lively district of Bastille, this 60-year-old restaurant offers a lively atmosphere and a great local experience. The menu boasts all the French nose-to-tail classics: kidneys, liver, tartare, black pudding and deliciously cooked steaks. The prices are decent and the atmosphere is particularly animated, with a nice balance of locals and visitors.
Open daily from 12pm to 12.30am, 13 Rue de Charonne, 75011 Paris, +33 1 47 00 34 57
Bouillon Chartier (Lower Montmartre)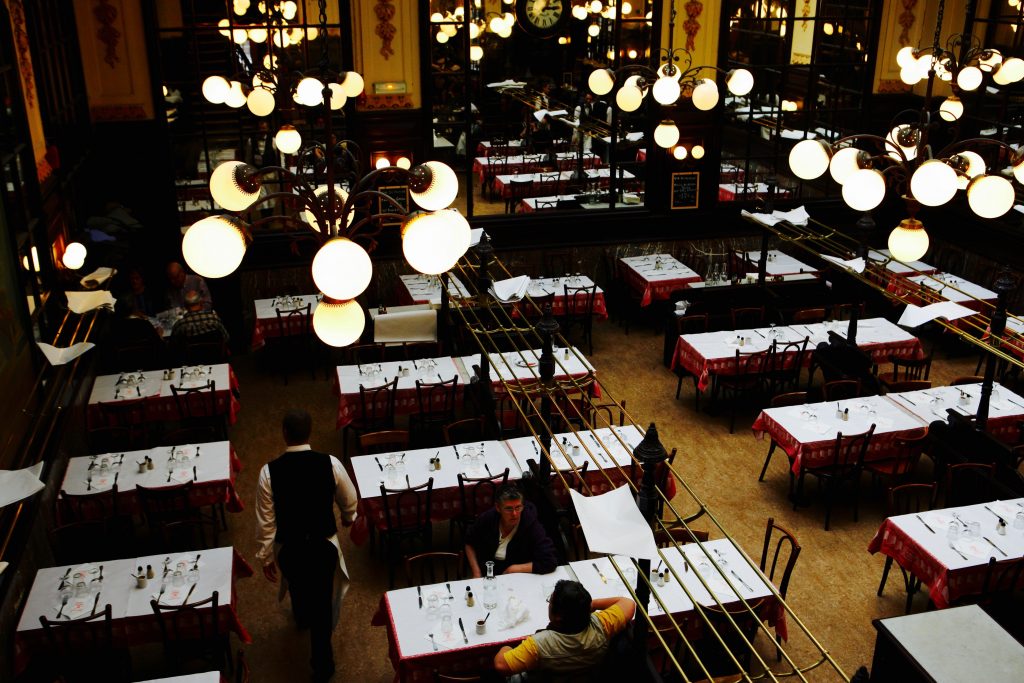 Let's be honest, this 120-year-old restaurant has become a bit of a tourist hub. Big groups, noisy atmosphere, somewhat rude French waiters, and average food — nothing that should allow this restaurant to be part of this list. However, the history of Bouillon Chartier (which has served over 50 millions meals), its current appeal among locals who want something cheap to eat, and its beautiful traditional setting are a hit for anyone wanting a true Parisian historical bistro experience.
Open daily from 11.30am to 12am, 7 Rue du Faubourg Montmartre, 75009 Paris, +33 1 47 70 86 29
Le Pré Verre (Latin Quarter)
For good, genuine contemporary French food, this unassuming restaurant in the 5th is excellent. The value of the lunch menu is second to none. Bookings can be made but the kind staff at Le Pré Verre has always managed to squeeze us in somewhere between the business-lunching locals and in-the-know international crowd.
Open Tuesday to Saturday from 12pm to 2pm and 7.30pm to 10.30pm, 8 rue Thénard, 75005 Paris, +33 1 43 54 59 47

Bonus: Le Baratin (East of Paris)
For a very long time, the heights of Belleville were seen as quite seedy and out of the tourist path. Not anymore, the area is now the new boho hood of Paris, and le Baratin the spearhead of this movement! Despite the rude owner, as friendly as a prison door, the local hipsters queue to get a table in this little traditional gem. The food on the plate is perfect, with a daily-changing, market-sourced menu boasting some of the most iconic French specialties, such as the pot-au-feu and veal cheeks.
Open Tuesday to Saturday from 12pm to 2.30pm and 7.30pm to 1am, 3 Rue Jouye-Rouve, 75020 Paris, +33 1 43 49 39 70