Looking for things to do in Tijuana? Surprise! This Mexican border city is far more than just a party town (although we'll forgive you if you do want to stay out until the sun comes up). Here's how to make the most out of your time in TJ, no hangover required.
Come hungry and thirsty
In addition to an internationally acclaimed culinary art school whose graduates constantly add to the diversity of the local food scene via their own inventive ventures, Tijuana is home to a growing craft beer scene that is heavily influenced by its San Diego counterpart, which is nothing short of a world-famous beer mecca. And with a homegrown gastronomic genre known as "Baja Med" (a fusion of Mexican, Asian, and Mediterranean cooking styles), and the Valle de Guadalupe wine region (the Napa Valley of Mexico, essentially) just over an hour's car ride away, the city undoubtedly makes for a foodie's Shangri-La.
Stay the night and see another side of the city in the morning
Once branded "the most visited city in the world," Tijuana receives millions of tourists annually thanks to its proximity to San Diego. Traditionally, most come to enjoy its shopping, restaurants, bars, and nightclubs in the afternoons and evenings, but only a handful wind up staying longer than a few hours.
Booking a hotel room — the city offers many options, so check TripAdvisor for user reviews — not only frees you up to enjoy the city after dark without having to worry about getting back across the border by a certain hour, it also allows you to explore Tijuana once the sun has come up, a completely different but usually delightful experience.
Plan A: Stop for breakfast chilaquiles at Mercado Municpal next to the cathedral at Avenida Niños Heroes and Second Street in Zona Centro — which once served as the city's original jailhouse — or an Oaxacan-style huitlacoche omelette at Mercado Miguel Hidalgo, the city's oldest open-air market, on Boulevard Sanchez Taboada in Zona Rio.
Plan B: Grab a gourmet coffee and pastry at a cafe like Jacu, Das Cortez, or La Statzione in the quaint Cacho neighborhood – one of the city's oldest — before taking a stroll through Teniente Guerrero Park, the city's oldest urban green space on the western outskirts of downtown at Third Street and Avenida Cinco de Mayo, or one of the city's many museums such as CECUT on Paseo de los Heroes in Zona Rio.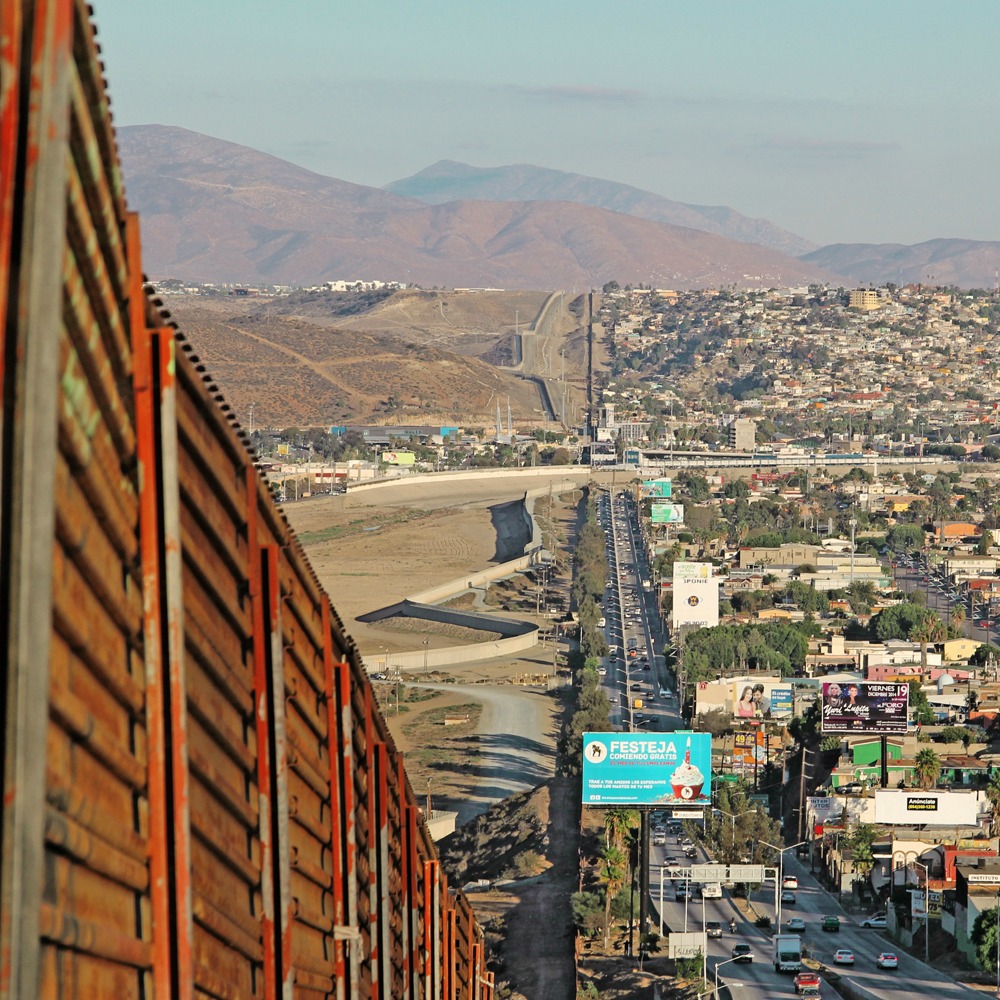 Brush up on your U.S.-Mexico border history
Founded in 1889, Tijuana came to be as a direct result of United States' victory in the Mexican-American War in 1848. Mexico was forced to sell more than half of its original territory to the United States, moving the border from the 42nd parellel at the modern-day California–Oregon state line to its current location along the 32nd parallel.
We recommend studying a bit about the subject beforehand, as it puts into better context the iconic and surreal but at times overlooked sights such as where the border fence trails into the Pacific Ocean in Playas de Tijuana, the northwesternmost corner of the country, as well as the historical border monuments that have dotted the official boundary between the two nations for nearly an entire century before the United States constructed the fence in 1994.
A visit to the Museo de Historia de Tijuana (the Tijuana History Museum, located inside the old municipal palace at the corner of Second Street and Avenida Constitucion) or the Sociedad de Historia de Tijuana (a bit east of the downtown area on Ermita Norte) also makes for an additional dose of contextual info regarding the city's unique past.
Don't come expecting Cancun or Cabo
Too many first-time visitors arrive hoping to stroll across the border and straight into a Corona ad, with visions of white sandy beaches, palm trees, free-flowing booze, and barely-there bikinis running through their heads. This, while true of resort destinations in central and southern Mexico, is essentially the opposite of Tijuana's urban borderland vibe.
One could argue that the city should be thought of as a Mexican extension of Los Angeles, which, at only 225 kilometers to the north, was originally founded on Mexican territory. Doing so will probably better prep you for the city's actual persona, one that constantly transitions from ruggedly gritty to cosmopolitan polished and back again, as well as from one culture to the other, within a matter of metres. This is undeniably Mexico's most American city, but it feels like anything but the States.
It's difficult to imagine, but many Mexicans who visit Tijuana from other regions around the country — be it Mexico City, Guadalajara, or Monterrey — often find themselves feeling just as out of water as any foreigner.
But many locals will unabashedly admit it is this very dynamic that makes their city — capital of the would-be "Third Nation," a term some scholars use to refer to the border region — so unique.
Let loose, but don't do anything you wouldn't do back home
Rooted in the spirit of its Prohibition-era boom, a time when Americans craving temporary refuge from their nation's ban on alcohol flooded across the border, Tijuana is a world loaded with added liberties and temptations, many of which are not necessarily legal but readily available. The city's party culture reflects this, and its economy has historically depended on the steady stream of tourists' cash and, sadly, naivety. Chalk it up to capitalizing on cultural ignorance, but as a result certain visitors experience less than success as far as staying out of trouble goes.
That said, exercise a few basic precautions. Don't drink in the street. Don't mistake the street for a toilet. Don't solicit anything from any cab driver other than a ride. Carry as little cash and as few credit cards as possible. Don't roam down any dark alleys after dark. Don't wear anything that obstructs your face while in public, even if it's part of your Halloween costume. Be aware of any stranger who seems overly friendly on the street or in a bar. Don't be overly paranoid, but do everything possible to enjoy yourself while not becoming a victim, be it at the hands of opportunistic thieves or police.
The general rule of thumb in Tijuana, which works like a charm for most skilled world travellers, is universal: unless you're actively on the hunt for trouble, chances are trouble won't find you.
Want to get the local scoop on life in TJ? Join our guides for a tour of Tijuana!