Italy may be a small country, but as any foodie knows, it's packed with a rich diversity in cuisine — especially when it comes to the holidays; from north to the south, every region has its own classic menu for festivities. And Easter is no exception.
One of our favourite Easter treats in Florence (apart from a chocolate egg with a surprise inside!) is a slice of a soft cake called colomba, or dove cake. The dove is a symbol of peace and purity, and acts as messenger of good news (we could also say that in the form of a colomba, it also marks the end of the seemingly never-ending Italian Easter lunch!).
A classic colomba has candy orange zests in the dough, and icing sugar with almonds along the crust. (By the way, it also marries wonderfully with a glass of Vin Santo, a sweet wine from Tuscany.)
But instead of going sweet, we've decided to offer you a savoury recipe for this Easter season: the torta pasqualina. This is an ancient dish that's a must-eat in springtime, and filled with plenty of symbolism for locals: the green spinach represents the rebirth of nature after a cold winter, and the fresh sheep's cheese and hen's eggs are available thanks to the arrival of sunshine over the flocks of sheep and chicken. In other words, the torta is a hymn to spring, to bright colours, and to new light — back in ancient times (when farms really were organic), chickens would start laying eggs in the spring after a long winter, when the sunlight is stronger and lasts longer.
Hungry for spring yet? Here's how to make a super-yummy torta pasqualina, the authentic Tuscan way.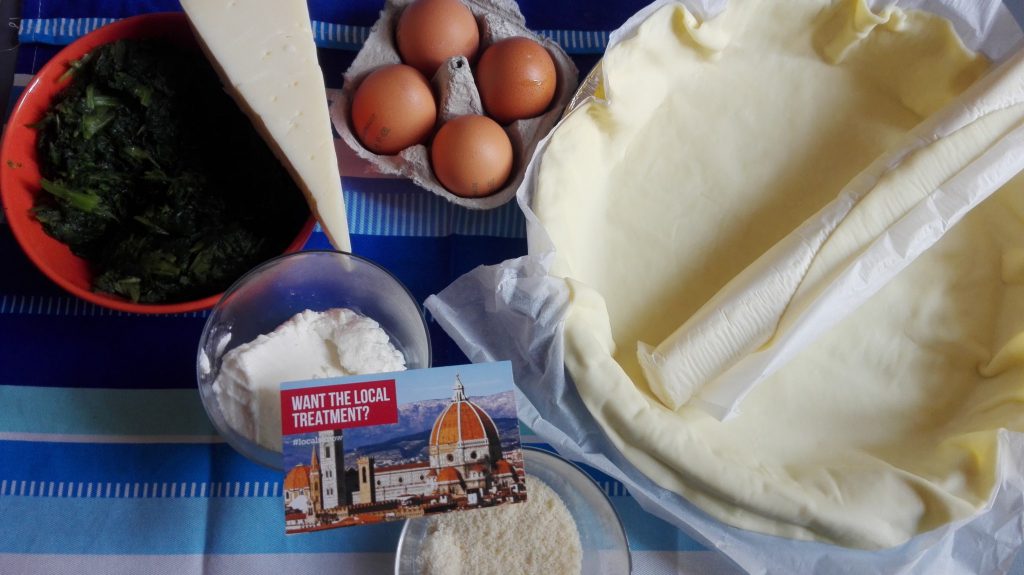 Ingredients:
2 puff pastries discs
300 grams boiled spinach
200 grams fresh sheep's milk ricotta
200 grams auricchio (aged cow milk cheese)
3 tablespoon parmigiano reggiano
few pinches of breadcrumbs
extra virgin olive oil, salt, black pepper
6 eggs
1 baking tin, pizza dimension or smaller (diam. 28 cm, h. 4 cm)
Method:
Pre-heat the spinach in a pan with some extra virgin olive oil, salt, and black pepper.
Pour into a bowl the boiled spinach with 2 eggs, parmigiano reggiano, ricotta, and auricchio. Mix to create a dense cream (use a fork, not a blender!).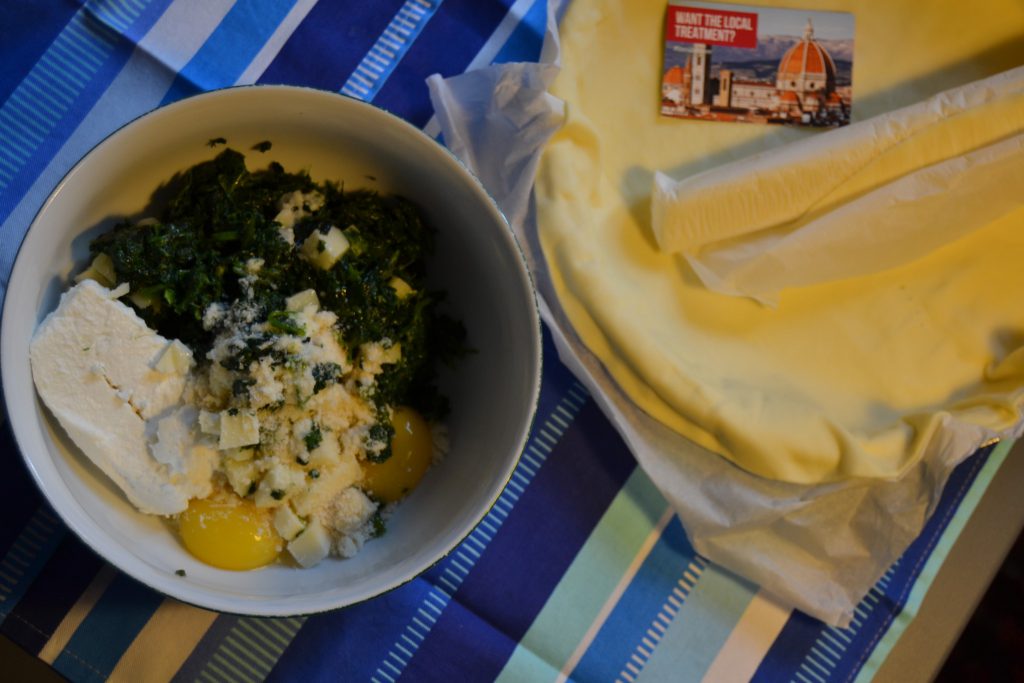 Unroll one pastry disc into the aluminium baking tin, then pour the spinach-cheese mixture into the pastry.
Gently move the spinach mixture to make a kind of a nest, into which you'll break an egg. (You can use a pinch of breadcrumbs to dry the nest so that the egg won't expand everywhere). Repeat with the rest of your eggs, one egg into each nest. Yes, they will be wobbling dangerously…
Carefully cover completely the cake with the second disc. Cut any excess pastry and close the edges tightly with a fork.
Cook in the oven at 180°C (350°F) for 45 minutes. If the top seems starts to burn, cover it with some oily paper.
Once cooked, let it cool, then cut into slices and pair with a glass of Prosecco di Valdobbiadene. Buona Pasqua!