Indulgent Paris may be best known as a gourmet, fine-dining, candlelit romantic dinners kinda place (also, coffee + cigarettes as a meal), but that doesen't mean the city can't do a mean food truck lunch, too. Here are five of our favourite places in the city for getting excellent street-style snacks.
Cantine California
Gourmet burger joints seem to have colonised Paris in recent years, and that's good news for our taste buds! If you're looking for an authentic burger experience, you will be in good hands at Cantine California. Founded by an American, the restaurant/food truck takes burger-craftsmanship very seriously. Exclusively made from French-sourced organic ingredients, these classic burgers are the proud ambassadors of American food in the heart of Paris.
Restaurant: 46 rue de Turbigo, 75003 Paris | Food truck: on Fridays at 58 boulevard Raspail, 75006 Paris
L'As du Fallafel
The best falafel in Paris? Look no further than l'As du Fallafel, an iconic restaurant located on rue des Rosiers in the vibrant Marais neighbourhood. Extra crispy yet soft on the inside, these famous garlicky fritters are served with traditional hummus, fried eggplant, red cabbage and an optional dash of hot harissa sauce. #localsknow tip: on sunny days, enjoy your falafel a few metres away in the nearby public garden Jardin des Rosiers-Joseph Migneret.
34 rue des Rosiers, 75004 Paris
Le Daily Syrien
Don't be fooled by first appearances. What initially looks like a newsagent is in fact one of the city's best street food addresses. Though they do sell newspapers and magazines, Le Daily Syrien is known for its delectable Syrian food including mouth-watering marinated beef or grilled chicken shawarmas, coupled with fried potatoes, tomatoes and lemon. Best enjoyed with delicious mezzés such as sumac-smoked eggplant caviar or mahamara, made of crushed red peppers in pomegranate syrup.
55 rue du Faubourg Saint Denis, 75010 Paris
Street Bangkok Local Food
Bursting with vibrant colours and exotic flavours (not to mention the groovy Asian music playlist), Street Bangkok is one of the best places to enjoy authentic Thai food at gentle prices, a few metres from the Canal Saint Martin. Discover the intensely delicious Thai cuisine concocted by Miss Ja, who will delight your taste buds with her exceptional salads paired with jasmine rice and peanut sauce. You might have trouble deciding between the marinated rump steak with fresh mint leaves or the chicken skewers basted in coconut milk and turmeric.
13 Rue de la Roquette, 75011 Paris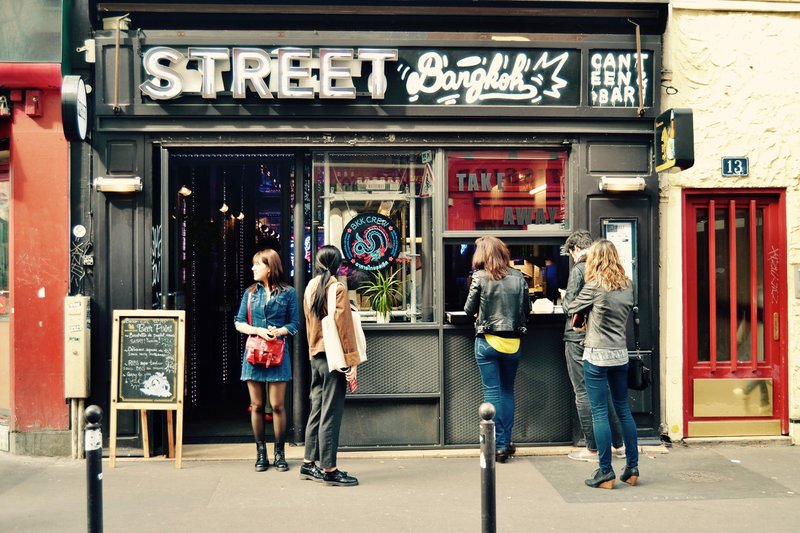 Le Food Market
Attention all street foodies! Le Food Market could be the ultimate street food address in Paris. Once a month on a Thursday (keep an eye out for the next one), make your way between the numerous food stalls boasting flavoursome cuisine from around the globe. You'll find countless delights including Vietnamese raviolis, gourmet burgers, Mexican burritos, gluten-free food, and much, much more. For dessert, don't forget to try A pasteis de nata — the iconic Portuguese egg tart pastry — from the well-known Pastélaria Belem, for a divine experience.
Boulevard de Belleville, 75020 Paris
From the back streets to the bakeries, there is something to delight the senses around every corner in Paris. Jump on a Paris tour with Urban Adventures to discover the most visited city in the world from a different angle.