Headed to Portugal? You'll definitely want to explore the charming city of Porto while you're there. This is a place known for its food, its wine, and its fresh sea air, so you won't be at a loss for things to see and do. If you find yourself with just one single day in this seaside city, follow this guide, crafted by our savvy Porto locals, to make the most of your time there.
Early morning: 9 – 10am
Start the day off right at Café Progresso, a café that's over 100 years old. Order their simple but delicious coffee and thick-cut toast with butter &mash; it's their specialty and locals' favourite. This is the only place in town that still makes coffee the traditional way — by simply boiling it — and it's perfect fuel for giving you the energy to walk around and explore for the rest of the morning.
Late morning: 10am – 12pm
From Café Progresso, head around the corner to Praça de Gomes Teixeira (better known as the Lions Square) to discover plenty of historical sites. You'll pass by the Clérigos Tower, Porto's most iconic monument, breathe the fresh air of the Cordoaria Garden, enjoy the amazing view over the city at Miradouro da Vitória, and discover both the city's old and new faces — all within walking distance! Don't miss the Lello & Irmão bookshop and its fabulous inside with the famous spiral staircase. Also take some time to visit the traditional shop A Vida Portuguesa, where you can find all kinds of unique gifts; it's also been dubbed the coolest shop in Porto.
From there, head down Allies Avenue to see the French-inspired buildings, then make a turn for Bolhão Market. This is the city's most famed market, bursting with fresh produce and other goodies. Make a stop at the nearby Comer e Chorar Por Mais grocery store on Rua Formosa to taste cured meat and cheese while sipping on Port wine.
Then get ready to walk it off! Walk along Saint Catherine Street, the main shopping street, and head toward the São Bento train station. Don't let the outside mislead you — the interior, all decorated with blue tiles, is a masterpiece and a must-see.
Walk up to the cathedral area from here and dive into the oldest neighbourhood in Porto. This is the place where you will see the true soul of Porto. Take your time exploring this area; every corner is a new surprise. The smell of delicious food and the warmth of the people who live here will make you love it.
Midday: 12 – 2pm
Work up an appetite for lunch with a bike ride along the river and coastline. Head to Vila Nova de Gaia on the other side of the Douro River away from the city, where it's far less touristy. Ride down to the Gaia side for about 15 minutes and you'll arrive at the fishing village of Afurada, where you'll taste the best fish in town! Just follow the smell of grilled fish and you will find Taberna São Pedro, the best place to have a local favourite, grilled sardines.
Afternoon: 2 – 6pm
After lunch, get back on your bike and pedal your way to the beach. Grab a drink and relax in the sun on one of the many terraces, watching the waves roll by.
Afterwards, follow the same route back and stop one more time at the fishing village of Afurada. Catch the Flor do Gás boat and cross back to the Porto side. Once in Porto, head along the river and ocean until you find the city park, which is well worth exploring. Make a pitstop at Soundwich for a snack and drink. The place is charmingly rustic and will make you feel like you've just made a great escape from the busy city.
Evening: 6 – 8pm
Come evening, go back to the riverside and the wine cellars area. Go to Porto Cruz for a guided visit and then sip on a Port wine cocktail at their 360 Lounge bar while watching the sunset — after all, we can't think of anything better than sipping Port while the sun is going down! Look across to the Riberia area, and you'll have a true postcard-perfect view of Porto.
Night: 8pm until late
Pick-up the funicular on the Porto side, next to the Luis I Bridge, to head up to the city centre. Stop at the Santiago Café on Passos Manuel Street and enjoy Porto's most famous sandwich: the francesinha (a classic Portuguese sandwich that originated in Porto, and features cured ham, sausage, and steak or roast meat, all covered with melted cheese and a thick tomato sauce… oh my, right?!). After dinner, head to Galerias Paris Street, a popular spot for local nightlife. Go to Era Uma Vez Em Paris for a beer, then move onto the Plano B disco if you're in the mood for longer night. After all, if you want to feel like a local, you have to party like a local!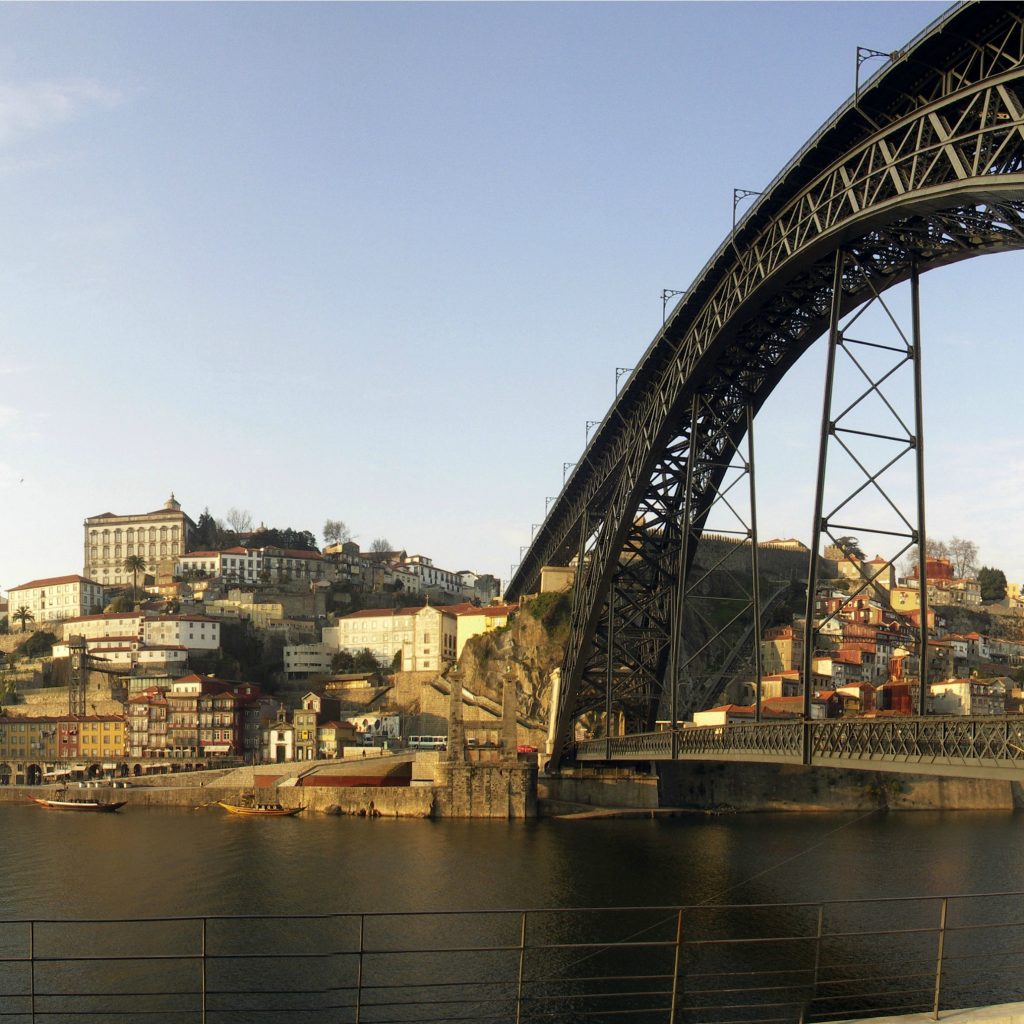 Shorter stays
Don't have time for a full 24 hours in the city? No worries, we've got the speedy version for a shorter layover.
If you're in Porto in the morning or early afternoon, head to one of the port wine cellars. It's a bit clichéd, but the cellars are a must for any visit to Porto. The city gives the name to this sweet fortified wine, so you really can't come here without trying this nectar of the gods! You'll need about 45 minutes to make a complete visit to a cellar, but if you're short on time, you can choose to just taste and not tour. Either way, choose one and go!
If your layover has you in Porto in the evening, go to Santiago Café to eat a francesinha and to Galerias Paris Street for a drink. Galerias Paris is the place to be for a night, where locals come to eat, drink, and hang out — if you want to feel like a local, this is where to do it.
Our local guides are true Porto experts. Take a Porto tour with them to see this city from a unique perspective.