I've been to Cuba several times. Four, to be precise. And like most Canadians, I initially didn't go in search of culture; I went seeking cheap rum and good times when the February blahs had taken hold of my sanity. I landed in resort zones like Varadero and Cayo Guillermo and ate bland hotel food and drank Cuba Libres until my teeth ached. I saw Cuba from the inside of a beach property, with a few walks into towns and day trips to the capital.
The first time I went to Havana, it was on one of those day trips from the resort, where you have just enough time to get in and out and see the highlights that every tourist checks off. I signed my name on the wall at La Bodeguita del Medio, where Hemingway famously drank his mojitos, and browsed cheap souvenirs from the Almacenes San José market. I bought cigars at the Romeo y Julieta factory, and then I climbed back on the bus and made the trek back to the sprawl of Varadero, just in time for another night out at one of the beach town's nightclubs. Short and sweet. But still, the city grabbed me for reasons I didn't yet understand.
In fact, you could say I loved Havana before I even knew it. I only knew what was handed to me on a pre-packaged tour, and yet, I was hooked. I wanted to know Havana, and I wanted it to know me. Like the great romance those cigars are named for, I fell into obsession. I read articles about the changing Cuba — the same articles that continue to surface year after year, each time with a bit more urgency as the US embargo lifts another inch. I read books about Cuba. I unrolled again and again the painting I had bought on my last trip — an oil work reproduced countless times to sell to tourists, of the view looking down Calle Empedrado.
It was a mix of heartache and boredom that led me back to Havana. I was fresh out of a long-term relationship and feeling restless. The February blahs were setting in and I wanted to be somewhere far from Toronto. Alone. I had previously made friends with a Brazilian expat who was living in Havana, so I'd have the comfort of someone on the ground to show me around. So you could argue I wasn't really alone at all. But I wasn't with anyone from home, which was all I really wanted. I wanted time to stop, just for a few days. I wanted to be somewhere where feeling simultaneously broken and hopeful made sense. And most of all, I just wanted to be in the city that I knew, deep down, I was utterly and hopelessly in love with.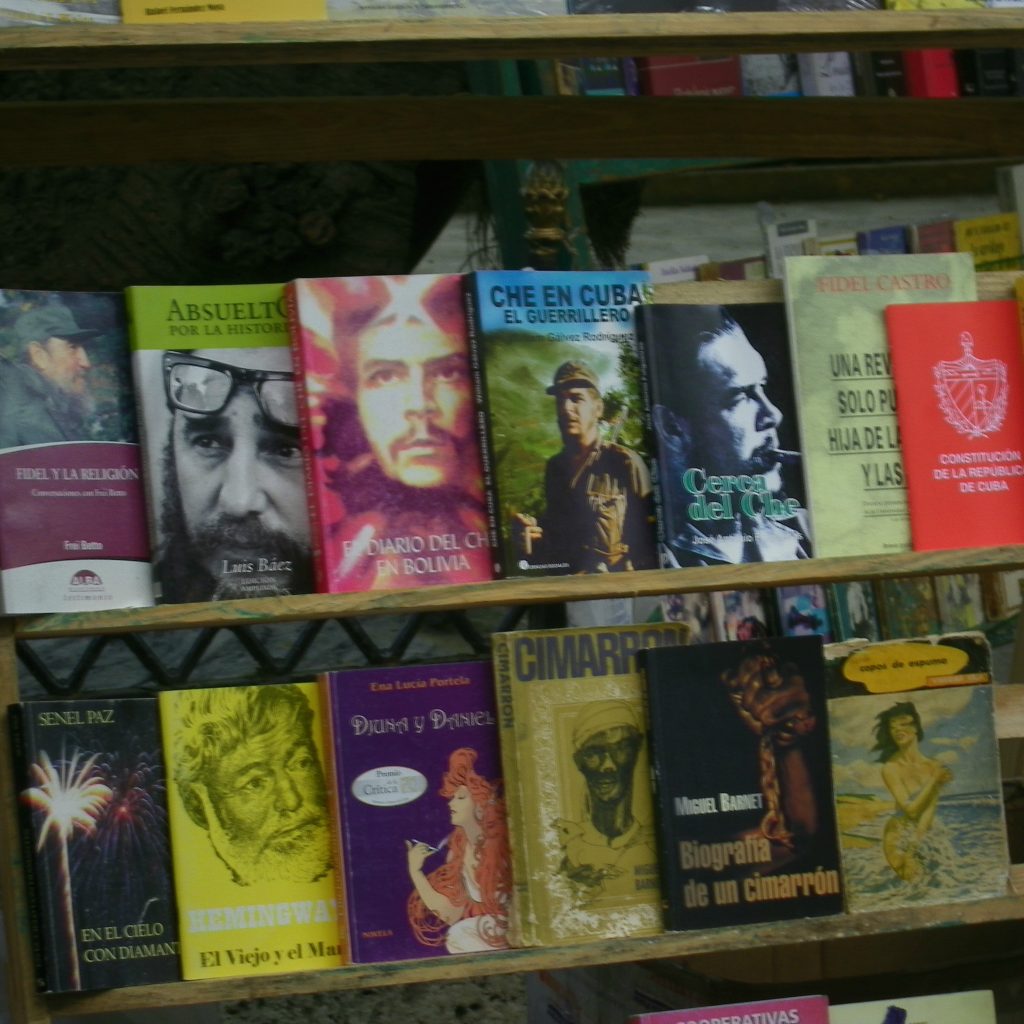 I called my mother right before I booked my flight. Spontaneity wasn't something I was known for. My finger hovered over the mouse, my credit card details already entered.
"Talk me off the ledge," I told her.
"Why?"
"I can't afford it. I really don't know this friend that well. I've never gone anywhere by myself." I rattled off a list of reasons.
"I think you should go."
And just like that, my mother pushed me off the ledge. In my relationship, I had lost pieces of myself, and she knew the only way for me to get them back would be to free fall. And so, two weeks later, I was aboard a plane to Varadero (a much cheaper option than going direct to Havana), sitting next to a sweet young couple headed away for an all-inclusive vacation. They asked me if I had been seated separately from my friends.
"No, I'm travelling by myself," I said.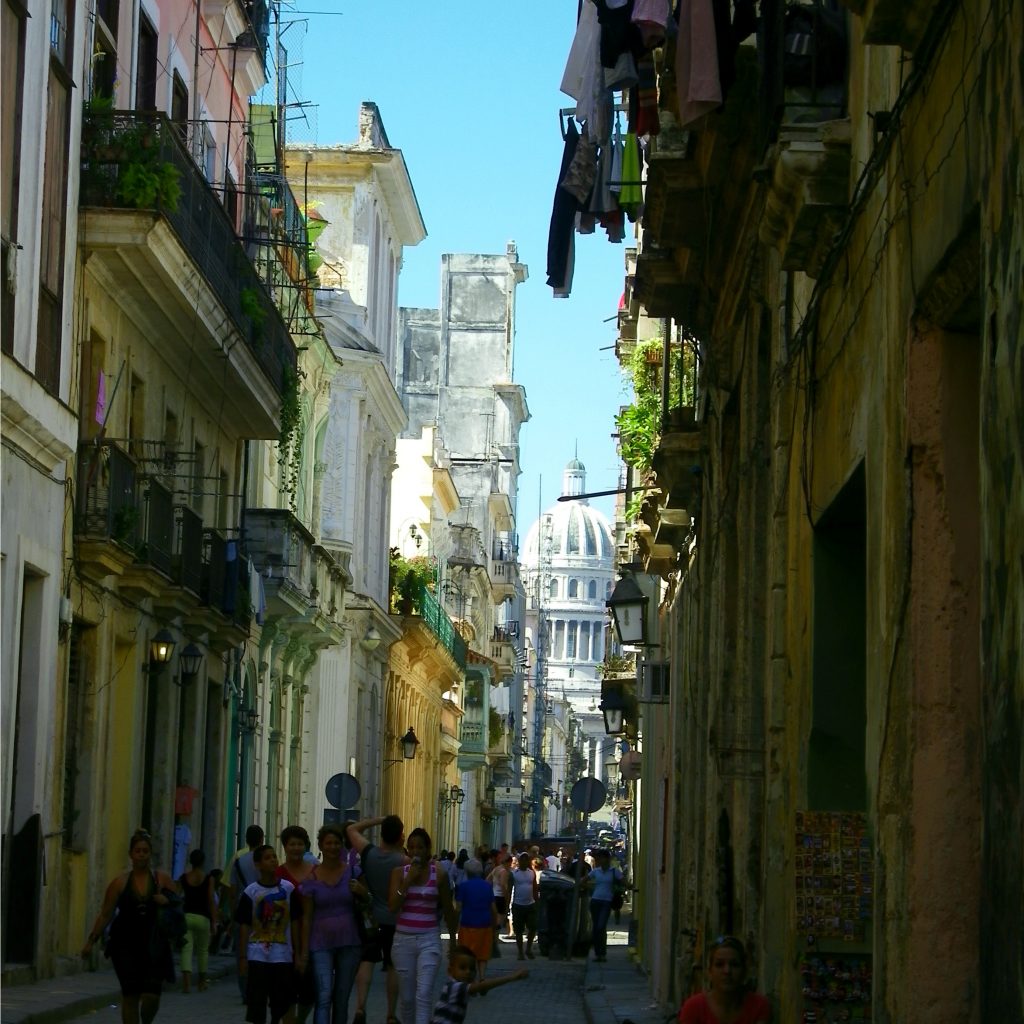 From the airport, I hailed a driver to take me the two hours to Havana. It was 10pm and the roads were in darkness. As we drove, we talked — about nothing, really, but also about everything. About his life in Cuba, about my life in Canada. About why I was alone. I told him the same thing I had told the couple on the airplane, that I was visiting a friend. It was easier than the truth: I don't know. I need to get lost. I think I'm in love with your city even though I don't really know it.
I had booked into a hotel in the suburb of Miramar, still too unsure of myself to seek out a casa particular on my own. The next morning, I headed to la Habana Vieja, the site of day trips past. It looked just as I remembered — that's the beauty of Havana, but also its tragedy. It never changes, the buildings are still crumbling, the paint still peeling. There are some spots where the government has stepped in, repairing spots for tourists to Instagram (that is, if they can find an Internet connection anywhere), but for the most part, it's just as it always has been, and just as it will be — until the Americans come in, of course, as everyone keeps saying.
Truth be told, I didn't really do much of anything on that trip. I didn't go sightseeing. I had already seen the Plaza de la Revolución and the former US Embassy. I didn't want to do anything but just watch the city go about its daily life. I ate churros from street vendors and chatted with strangers on the streets. I sat on patios and drank strong, black coffee and wrote in my notebook. I went for lunch with new friends in Vedado, a residential neighbourhood off the tourist day-trip trail. I wandered the Malecón in the evening, where locals gather at sunset to drink beer and do nothing. I peeked inside ration stores. I sat at bars alone and talked to bartenders and drank mojitos and, yes, pretended I was channelling Ernest Hemingway. I watched a much older European man share cocktails with a much younger Cuban girl, and cringed as her coquettish charms changed to boredom when he wasn't looking at her.
And it was in those moments of doing nothing that I found what I had suspected all along was true. I loved the place. I loved the way salsa music poured from car windows, the way the Malecón looked like a braid of people all linked together at dusk, the way the scent of cigar smoke hung over everything. I also loved that it was broken. Loved it in spite of its flaws. I loved that it was complicated and had problems that no one really knew the answers to. I loved that despite that uncertainty, everyone I met still had an opinion, and hope. I loved that I only really saw these things after I slowed down and stopped sightseeing. The city had waited to open up to me until only after I had ditched the bus tour and gotten lost on the cobbled streets.
I admit I'm still no Havana expert. It's a hard city to "get" when you haven't grown up under the umbrella of communism. And I confess if I could do that trip all over again, I'd dig deeper, go longer, be harder on myself because that's what Havana wants you to do: to challenge yourself. It'll take me many more trips before I can consider myself someone who "knows" Havana. But that's another reason why I love it. Because just like with true love, the longer it lasts, the more pieces you'll find in each other.
Want to fall in love with Havana on your own private adventure? Our Create Your Own tours are the perfect way to succumb to Cuba's charms at your own pace.