It is a really nice parallel having both a business and a child of similar age growing up side-by-side. At the beginning it's all so new and a little bit confusing. You do what comes instinctively and hope you get it right. It seems most of the time you do — and then some of the time you just have no idea what to do. Reflecting, I think about my daughter as a one-and-a-half-year-old, 45 minutes into high velocity screaming at 40,000 feet, and compare that to our operational partners (the incredible people who run our tours), building a similar noise around (lack of) sales volumes at a similar age in our evolution as a business. It is all kind of relative.
As both my daughter and the business get older they become more confident and sometimes really blow my mind with their growth and achievements. Other times they disappoint and I struggle to find the right line between constructive advice and encouragement to get everything back on track. Often, I need to go find the information that is lacking in me to work out what the hell is even going on, and through that I grow. They become the teacher and I the student. Continually, I need to look within and see if I'm not actually the problem.
It's been a great ride getting Urban Adventures to 6 years old. We've carried close to 300,000 people and nearly a third of them came in just the last 12 months. Destination growth has been more steady than meteoric and we've reached the point of comfortable sustainability. As a start-up, however, we don't really want to be comfortable. That is not our natural environment. But having shown it is possible to make this a profitable business gives us a great opportunity to begin to do things that push the boundaries a little further and, we hope, begin to make an even greater difference in the world.
On our 6th birthday, I don't want to look backwards too much on the journey thus far but look forward to opportunity ahead. However, it is really important to acknowledge the achievements of a team of people now nearly 1,000 strong. We've carved out a niche for being the go-to-experience to have when first arriving in a new place. We are the experience our customers know will deliver a true local perspective based on what we know is the best, and can connect them both quickly and deeply to a destination.
As our travellers quickly realise, the Urban Adventures experience is highly personalised, as our guides seek to uncover travellers' interests during the tours, and to match their local knowledge to those specific interests. As Seth Godin would say, it is the free prize inside. It is our secret sauce scaled across six continents. We have built the systems and knowledge to now have the ability to quickly replicate the model and to help passionate people start exciting new businesses. We work equally with people both from inside and outside tourism. Previous experience is not really the best indicator of future success in the Urban Adventures model. Instead, it is a collision of passion, knowledge, fun, the courage to be original, and an absolute desire to give everyone we touch the Best. Day. Ever. In the old days this would have been called genuine hospitality — because ultimately that is what it is — but in the new fast-paced world we live in, anyone can yell out a slogan. But not everyone can engender a feeling consistently. This is absolutely our proudest achievement to date.
Being birthed from a parent that lives and breathes responsible tourism, it is in our DNA to want to build a world in tourism that positively impacts the world at large. That may sound a bit grandiose, but with tourism we have a vehicle to educate first-hand about cross-cultural differences, to breed acceptance and understanding, to provide livelihoods for people who don't have a lot of obvious opportunities, and do it in a way that is fun and creates long-lasting impressions. We can create memories that run deep and that can invoke change in some people and motivate action in others. As the UN has acknowledged, tourism can be the vehicle to alleviate poverty and we want to be at the forefront of that movement.
Having built a system that can take pretty much anyone with passion and commitment to a point where they are able to build and grow their own sustainable and profitable business, there is now an incredible opportunity to bring this system to other great storytellers. The truth is pretty much always more awesome than fiction and the cities of the world are filled with people doing incredible things. There are change-makers all around us who are working with communities to build opportunity for those who have none and it turns out these are some of the coolest stories about a city that a traveller could ever hear. We believe social enterprise to be the killer model for transformation out there. We know people will fill auditoriums to hear about how these change-makers are going about inspiring the world around them through action. We believe these stories are infinitely richer when told on those same streets where the change is being affected and hearing (touching, tasting, smelling, and seeing) it from those who are feeling its effects. We can do this in small unobtrusive groups and be ready to go when you are visiting rather than you having to make a special trip.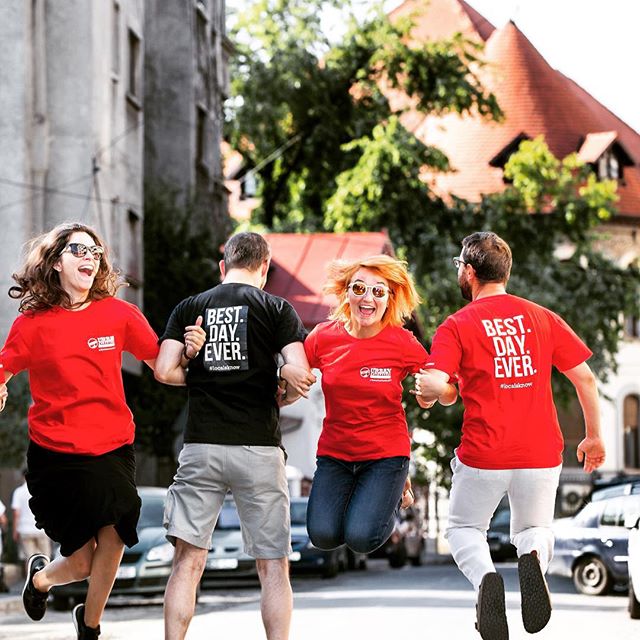 If you are one of those change-makers (or know of someone who is), I highly recommend you get in touch to see how we can amplify your message and create advocates and disciples to take that message out to the greater world, whilst giving a systematic approach to project visitation that minimises disruption to your core business and at the same time adds another revenue stream for you to do more good, faster. If you believe in the greatness of people and are inspired by people who by sheer will make things happen, I encourage you to seek out Urban Adventures for your future travels. You'll get a traveller's insight into a city that is truly rich, unique and deep and take home a story of inspiration from a place tourists don't even know exists. We don't really believe in responsible tourism as a sector — we simply believe that all tourism should always be responsible.
Like my own child, I want only the best. My daughter is about to begin school, which will take her on a whole new plane and trajectory. I want to give her an opportunity to make an impact in this world. With Urban Adventures, we want to see likewise what true impact it can make whilst not compromising the fun and local aspects of our destination exploration. I can't wait to see how they both grow into their next phase.