If you've never consider travel to Taiwan, now is the time to catch on. This destination is growing in popularity by the minute, and we can see why. And with an unbeatable mix of culture, history, and food, Taipei is one of the most fascinating spots to visit in this cool country. If you find yourself with just a single day in the city, here are our recommendations for 24 hours in Taipei, handcrafted by our knowledgeable locals.
Early morning: 7 – 8am
Start the day with a traditional Taipei breakfast. If you have no idea where to go, Yonghe Soy Milk King, on Fuxing South Road near the Technology Building metro station, would be our recommended pick. To experience a local breakfast, order a soy milk, a Chinese omelette, and clay oven rolls with fried bread sticks — or try "salty" soy milk, if you dare to taste something really special! Don't worry about your Chinese, as they provide menus in English and Japanese.
Late morning/midday: 9am – 1pm
Take a walk to the National Taiwan University to digest your rich breakfast. On the campus, you can stretch out on the lawn in front of the library and watch the students glide by on their bikes. You will notice that most buildings, originally founded by the Japanese during their colonial period, are built with European architecture in mind.
Next, walk along Coconut Boulevard and you will arrive at Gongguan metro station, where you can grab a train to the 228 Peace Memorial Park. In this park, there is plenty of interesting architecture dotted around, such as the National Taiwan Museum, Taipei 228 Memorial Museum, and even historical remains of a Japanese temple entrance. Taiwan's first steam locomotive, imported from Germany in 1888, is also located in the park. For a bit of relaxation, take a short rest in one of the Chinese-style wayside pavilions along the lake.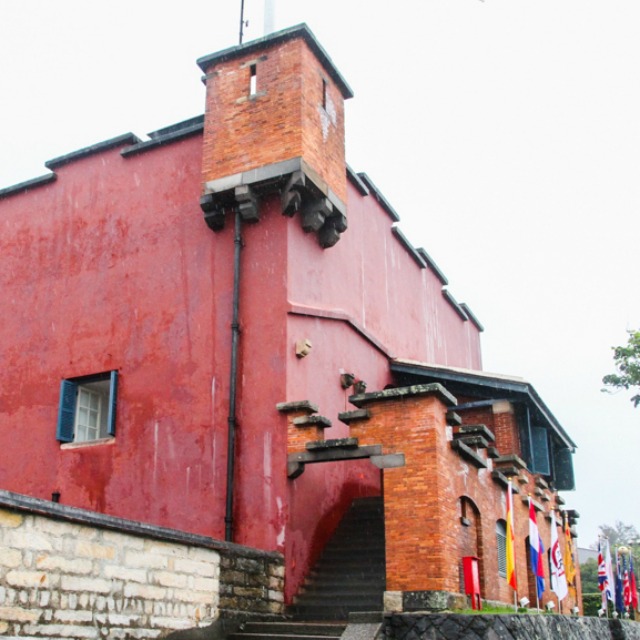 Afternoon: 2 – 6pm
Next, take the metro to the Tamsui District. Make sure you stop by Fort Santo Domingo, originally built by the Spanish, taken over by the Dutch, and finally reconstructed as a British consulate, and learn more about the colonised fate of Taiwan. Oxford College in Aletheia University and Tamsui Christian Church, both founded by Canadian missionary Dr. Mackay, are well worth a visit, too.
Bet you're getting hungry by now, but don't worry, food is everywhere in Tamsui! A-gei is the most famous specialty here so keep your eyes open for that. You may also sample different kinds of bride cakes on Zhongzheng Road, and get some "iron eggs" as your souvenir. If you can't face the hot weather, huge servings of ice cream will cool you down. Afterward, enjoy the best view of a romantic sunset along Tamsui River to finish up your time in this neighbourhood.
Evening: 7 – 9pm
During the evening, Longshan Temple is still full of followers and people praying. Refresh your mind by walking through the temple with smoky, aromatic incenses around you. On Bopiliao Old Street, a secret spot a short walk away, you'll find traditional old buildings right next to modern Taiwanese structures — an enjoyable place to visit at night.
The night market in Taipei is another important spot that you should not miss on your trip, and Huaxi Street Night Market is right next to Longshan Temple. There are so many Taiwanese snacks you'll want to try — maybe even stinky tofu! — so make sure you have plenty of room for a hearty Taiwanese dinner. To finish up your day on a relaxed note, you can also grab a foot massage here, perfect after your long day of exploring!
SaveSave
SaveSave