You use public transportation all the time back home, so what's the big deal in another city? Well, when it comes to San Francisco, the city is kind of in a class of its own, and navigating the multitudes of acronyms, passes, and various ticketing systems can be a bit tricky to someone new to the city.
First, let's talk about why San Francisco is all about public transportation.
Number one: Parking. You might think renting a car is a good idea, that it'll make things super convenient and easy. Well, be prepared to experience San Francisco like a true native, i.e. spending 45 minutes searching for a parking space that you pay 20 bucks for and still have to walk 15 minutes to get where you want to go anyway. If you have time to take some day trips out of San Francisco, a car is great, but within the city, you're just setting yourself up for a lot of annoyance, fees, and probably a parking ticket or two.
Number two: Hills. Okay, if you just got back from competing in the Tour de France and have legs of steel, then by all means, rent a bike as your primary means of transportation. For mere mortals, however, you'll quickly find yourself panting and pushing the bike most of the way. Locals who bike know the best routes to minimise time on hills. Guided bike tours will take you along relatively flat (emphasis on relatively) terrain. But for getting around to see the sites? You're gonna need some pretty strong legs (and an even stronger bike lock).
Number three: San Francisco's public transit is pretty awesome. If you avoid it, you really are missing out on a lot. Locals use public transportation all of the time, and there's always something interesting, funny, weird, or just plan San Franciscan going on. From locals who are willing to give you some great ideas for places to check out in their neighbourhoods, to performers hopping on BART for a few stops to do acrobatics on the bars, San Francisco's public transportation is a cross-section of life in the city, so don't cheat yourself out of the experience.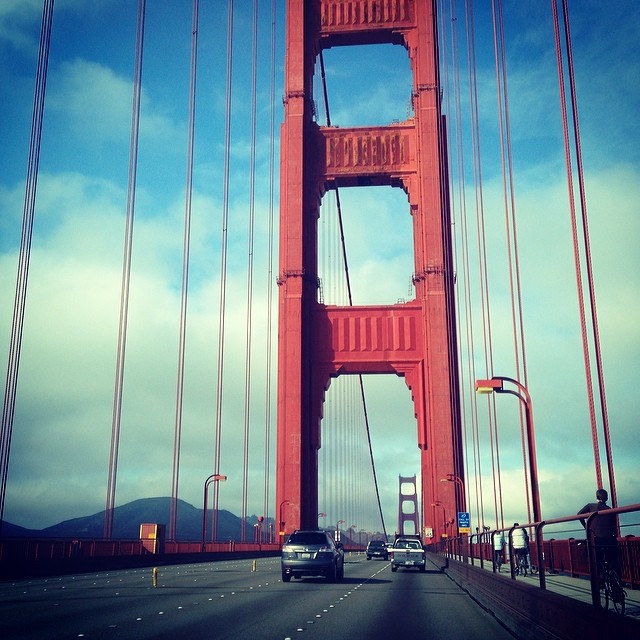 Next, let's go over the different types of public transportation and what to expect from each one.
BART
No, not the character from the Simpsons. BART stands for Bay Area Rapid Transit, and it's going to be your best and fastest bet for getting to and from the airport, Oakland or Berkely, or getting around downtown. BART is pretty reliable, although it stops running around midnight. Keep your ticket — you can add money to it and reuse it, and you'll need it to get out of the station.
MUNI buses
This is the most extensive type of public transportation in the bay area, and the most commonly used. MUNI buses will get you just about anywhere. The drawbacks are that they can get pretty crowded, and traffic can make the schedules somewhat erratic. A lot of stops have electronic screens telling you when the next bus is coming. The best part is, they're usually fairly accurate. You can also dial 311 to talk to a person to help you figure out where you need to go. Stops will have an ID number on the sign, so even if you get totally lost to the point where you can't figure out what street you're on, just give them the number and they'll tell you what bus to take, when it's coming, and where it'll get you to.
Rides are $2.25, and no change is given, so make sure you have cash on hand, or have your pass with you. Also, keep your ticket accessible — you don't need it to exit the bus, but ticket checks are common enough that it's worth hanging on to it. Another good reason to keep the ticket: it's valid for a transfer to another bus or a MUNI street car within 90 minutes of purchase.
Keep a close eye on buses driving up — don't assume that a bus will stop just because it's number is on the bus stop. In fact, it's safe to assume that it'll drive right on past if you don't aggressively flail your arms around at it.
Street cars (light rail)
Not to be confused with the cable cars, the street cars are actually part of the MUNI system. They're not quite as famous as the cable cars, but are still pretty cool — San Francisco runs a couple dozen different historic street cars from all over the world, and they generally have some pretty awesome decor inside. As part of the MUNI system, street cars follow the same rules as busses.
Cable cars
Alright, they're a bit touristy, and you won't see too many locals hopping on for their morning commute. But, apart from the pure fun of it, they are a genuinely useful and convenient way to get to major tourist attractions. They have fairly limited routes, and will mostly get you to Fisherman's Wharf, Pacific Heights, and Union Square. At $7 a ride, they're also a little bit pricey unless you're using a pass that includes cable car rides (more on San Francisco's transportation passes below).
Finally, get a pass. Seriously, it's worth it. Paying for each individual ticket adds up really fast. Unless you only plan on taking one or two rides on public transportation, getting one of the city's passes will save you a lot of time and money.
City Pass: You get unlimited rides on MUNI, street cars, and on the cable cars, as well as admission to quite a few other attractions. Even if you're not staying a full week, three or four days of transportation costs will add up pretty quickly, and the pass will still most likely end up saving you money. Unfortunately, the pass doesn't cover rides on BART, as MUNI and BART are two separate entities, so a lot of travellers limit use of BART to getting to and from the airport.
MUNI Passports: These work basically the same as the City Pass, only without the extra admissions. You can get a passport that's valid for 1 day, 3 days, or 7 days, and although they don't cover BART tickets, they more than pay for themselves.
Unfortunately, BART doesn't offer any passes or discount tickets that are geared toward the short-term visitor. The best that you can do with BART is keep your ticket, which you can add value to and re-use.
Most importantly, when you are navigating San Francisco's public transportation system, remember that it's more than just a way to get from point A to point B. If you keep your eyes open and your camera ready, you're sure to find something funny, heartwarming, noteworthy, or just plain weird. (Check out munidiaries.com for locals' stories from MUNI and BART).
Want more tips on seeing San Francisco like a local? Hop on one of our SF city tours!