New Yorkers love being outdoors.
It might have to do with the fact that we practically hibernate all winter long (not us Urban Adventure tour guides, though!). So when the sun comes out, we want to dine outside, walk instead of take the train, and head to our local parks. Here are a few of our favourite spots in New York City to soak up the sun and get some fresh air (even if we are still wearing jackets and scarves).
The Brooklyn Grange (LIC)
Didn't think you could find a farm in NYC? Well, all you have to do is look up! This one-acre farm sits atop a huge building on Northern Boulevard in Long Island City, Queens. Open to the public, you can head up to catch the amazing views, see what's growing, and even check out their apiary and chicken coop. There's also a weekly market where you can buy produce, and a great café in the building below that utilises the fresh produce. The other day we tried an amazing tea there made from a variety of flowers grown right upstairs!
The farm hosts various events from beekeeping workshops to farm tours to yoga, both at this flagship farm and at their Brooklyn Navy Yard farm.
Astoria Park
Most New Yorkers live in tiny spaces with no green space. So wherever your local park is, that's your backyard. Astoria is a great example of that backyard culture — on any given summer day, you'll find families barbecuing, picnicking, and hosting birthday parties. In the mornings before 9am, you'll find a huge local community of dogs running around and socialising off the leash.
Astoria also boasts the city's largest public swimming pool, built for the Olympic US swimming trials in 1936. You'll also find a huge running track with exercise stations, a beautiful view along the water, and tons of events like movie nights, a great 4th of July firework show, live concerts, and festivals.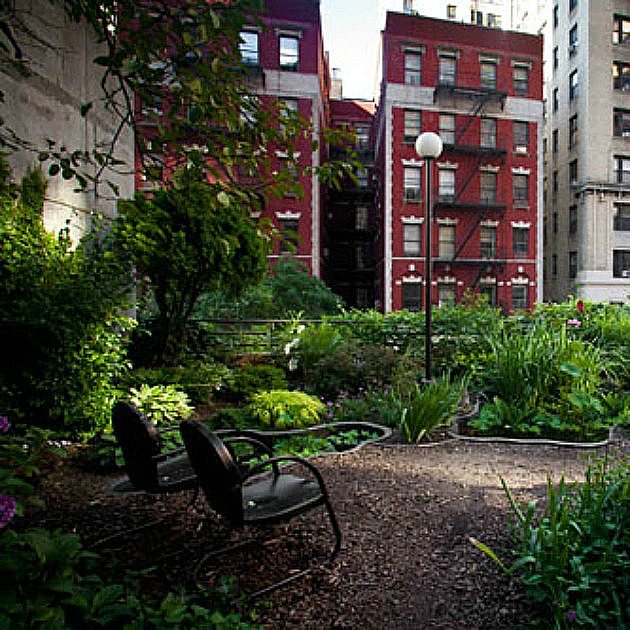 The Lotus Garden
NYC is filled with community gardens (we cover a few on our Tenements, Tales & Tastes Tour on the Lower East Side) but this Upper West Side garden is definitely unique in that it's housed on the roof of a parking garage.
You can arrange a guided tour to learn more about the garden and its local community or you can visit during public hours every Sunday from 1–4pm (April to November).
Louis Valentino Jr. Park
This gorgeous waterfront park and pier in Red Hook, Brooklyn, has amazing view of the Statue of Liberty and Manhattan (it's a great spot to catch the sunset). It's also right next to our favourite Steve's Authentic Key Lime Pies (to be enjoyed with the sunset, of course). You'll only find locals here, picnicking, fishing, and boating.